Settled in member
Posts: 144
Joined: Wed Apr 30, 2008 6:05 pm
Amazing mate, bloody amazing. The ride round boxhill way I feel will never quite have the same appeal for you again though. Good luck with it all.
Jo it'll always be there mate, next year it starts again, i hope wen can sort out lots of trackdays and no complaining now, your coming to the ring for a weekend with us!!


Fuck me - astounding. Dont hear anything for a month i can see why now.
living the dream mate - living the dream.

So any plans on ever coming home ?
Trust the big boss man to put it simply. I enjoy looking back at these just as much as you mate. Plans are already in swing to come home apparently. The two new bikes are in the pipeline. One is an nc30 for a rebuild/tinkering bike but a bit better than that runt you have. The other is an italian twin that is still a great bike and is on hold with the family friend until i can get back!!!! Or be very dull and get a gsxr1000

lol
About coming back then. Obviously i'm starting to miss things at home now, it does get a bit lonely at times because your on your own. Until Lima i went three weeks without speaking english and my spanish is good for talking but i cant write it! I'm at macchu picchu now. So that leaves only bolivia before rolling into buenos aires and home. The girlfriend who has been superb was trying to book me a flight for the second week in septembeer. I thought it was july still though i've lost all track. So i panicked said no and am now going to do bolivia and then head east into brazil before crossing uruguay and paraguay and then home!!!
Early october sounds a good bet.
2009 trip best country..... Columbia absoloutely breathtaking
---
Site Supporter

Posts: 10327
Joined: Thu May 01, 2008 9:37 am
Bike owned: NC30 MC21 TZR FZR GSXR RG MITO
Location: Kent
You must be having a top time, lonely as it might be sometimes but just look at the upsides...fair play mate
---
Settled in member
Posts: 144
Joined: Wed Apr 30, 2008 6:05 pm
So after a few nights out i'm again feeling very confident in getting this up to date!
I left Lima and headed further south into the desert to visit the famous Nasca Lines in the peruvian desert and ended up meeting a dutch guy and another englishman on a drz. Spent a nice afternoon in a plane and got a very good idea of the strange drawings fromed in the desert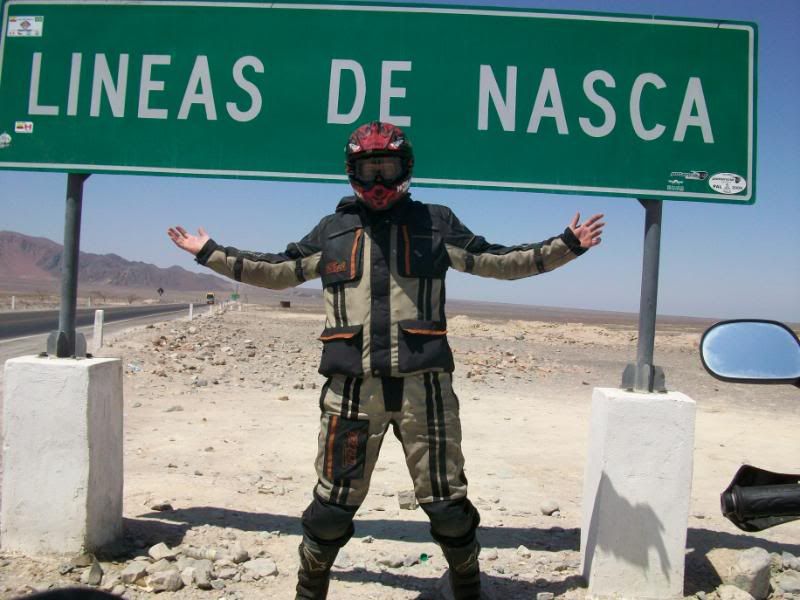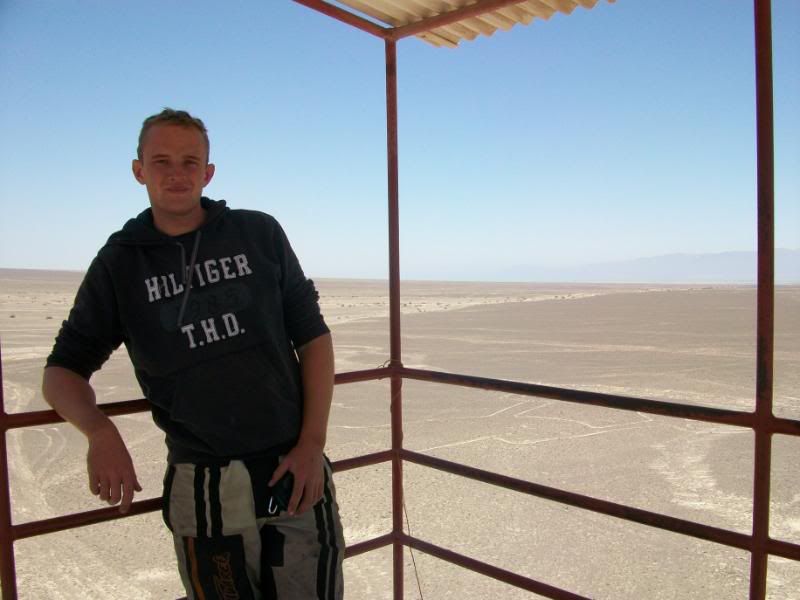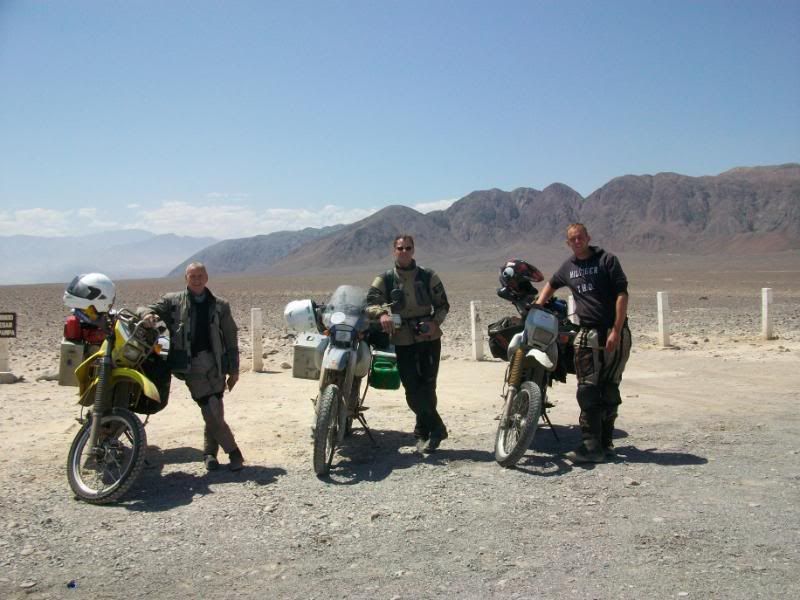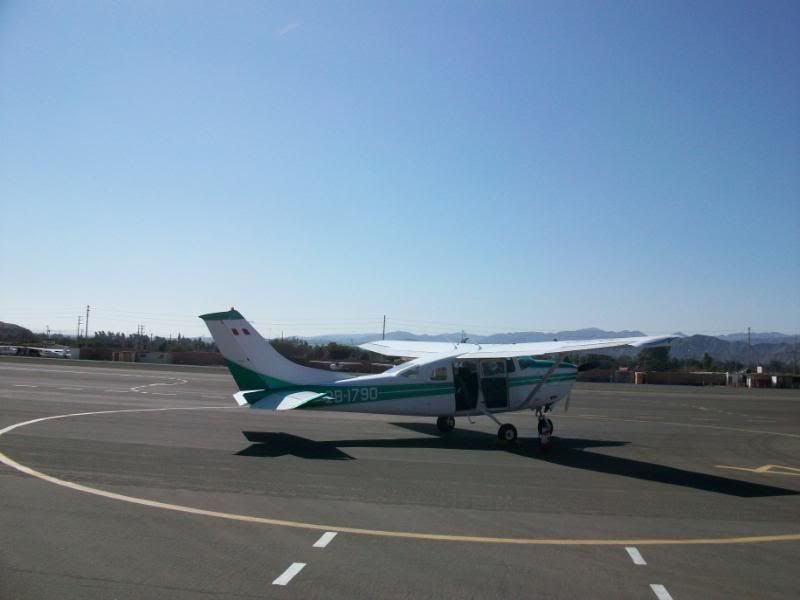 When i say small plane i mean four total and choppy was not the word, the guy would fly at ninety degree angles so we had good views!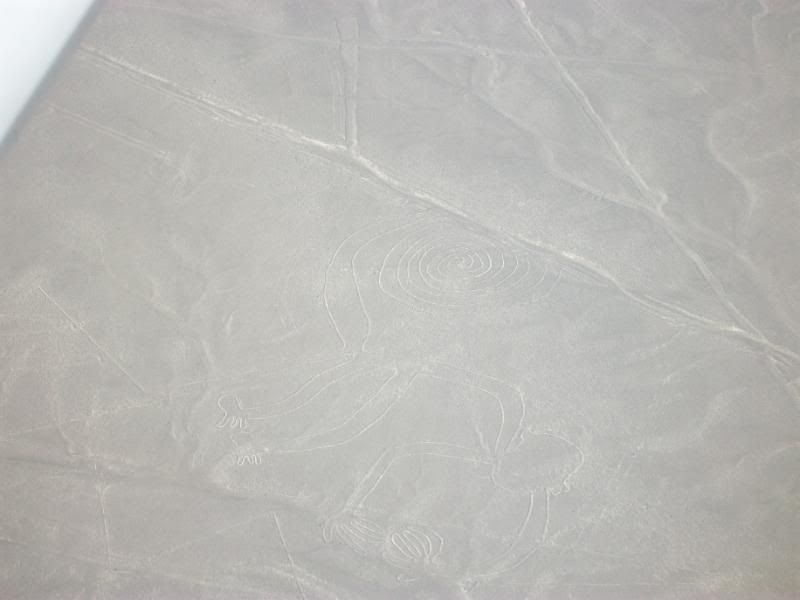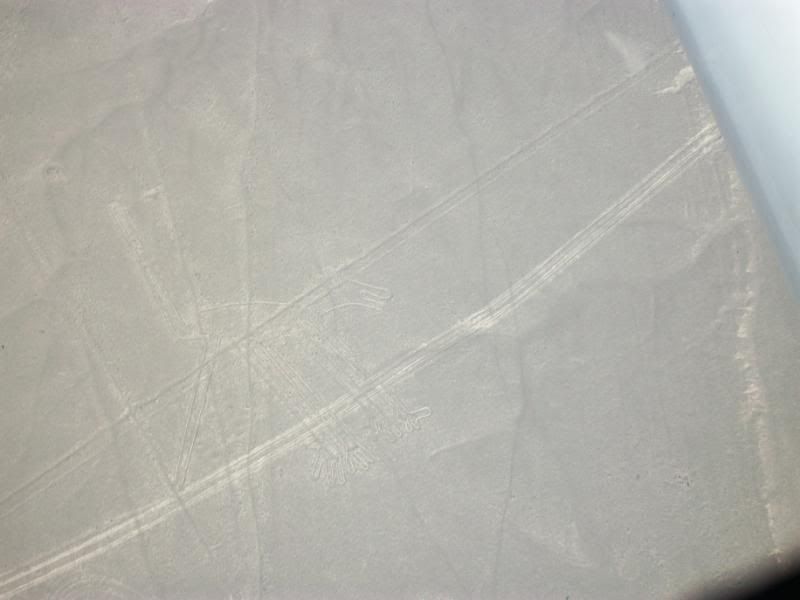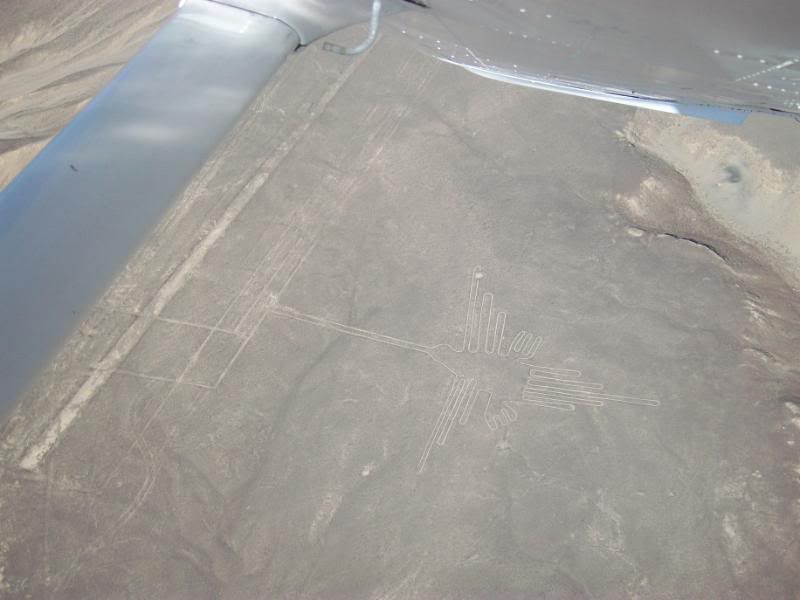 Follwoing that was a long few days getting back up into the mountains and Cusco, famous really for one thing, macchu picchu an ancient inca city built high up in the hills and hidden for centuries. Most people who arrive here spend four days hiking up to it through mountains and small roads. I took these roads coming in and couldnt be arsed putting up with typical gap year types spending daddys money and moaning about the cold. So it rode to a small town as close as i could get and caught the train into the village at the base of the ruins. Then spent the day in awe looking at the ancient foundations and climbing higher for a panoramice view and to almost to experience the ability to walk five steps and be completely out of breath!!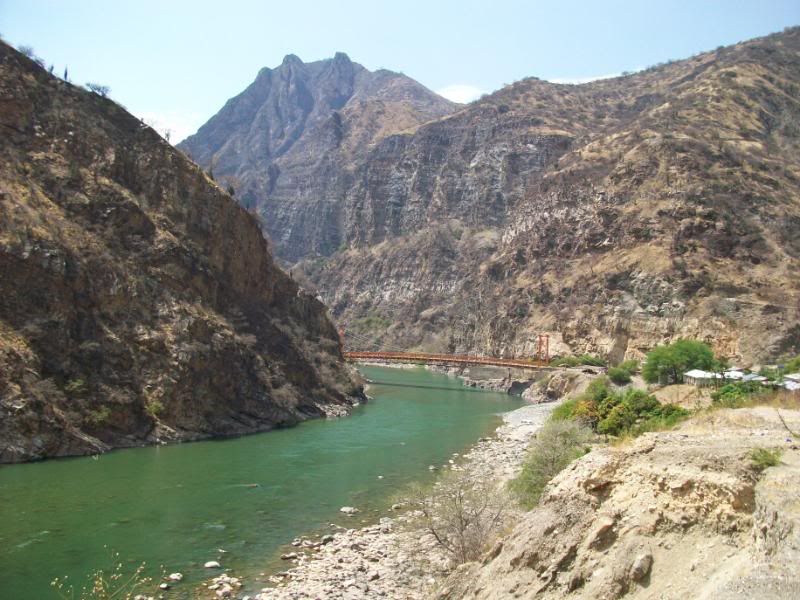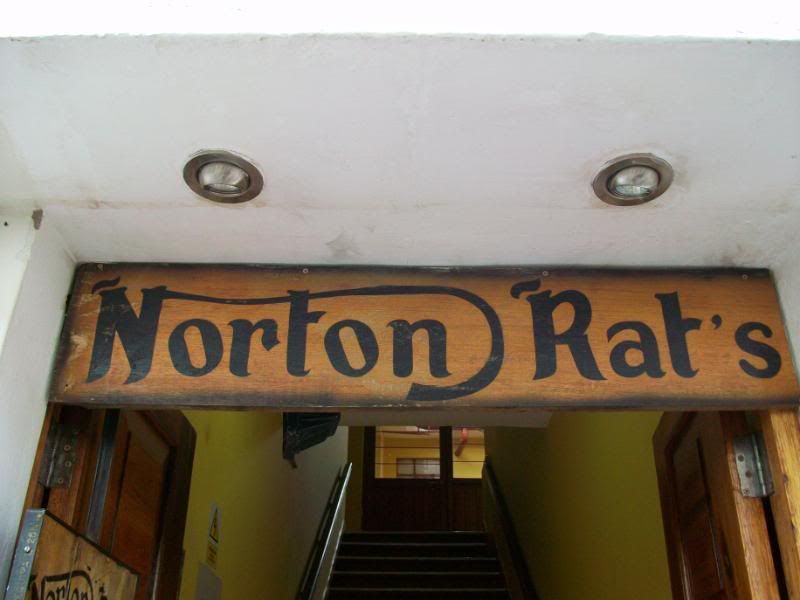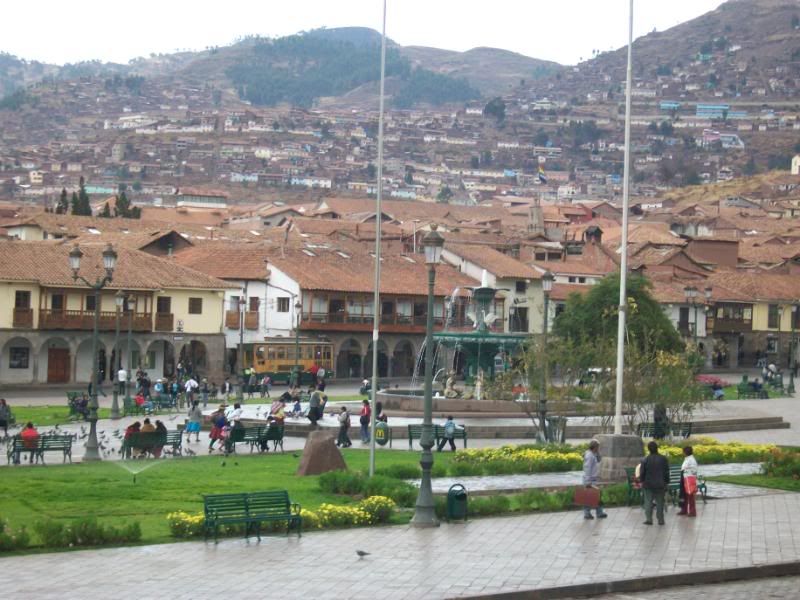 Norton rats is an english pub slap bang in the middle of cusco. Its run by an american expat called geoff and he has commandoes in the bar. We hung out chatting bikes and how he rode a commando down to the cape of south america four years ago. All over a frothy london pride on draught! Perfect.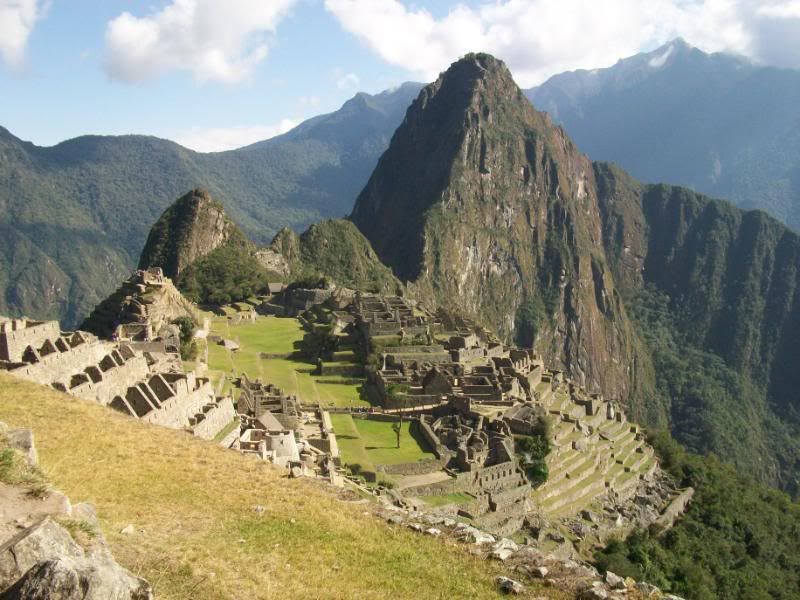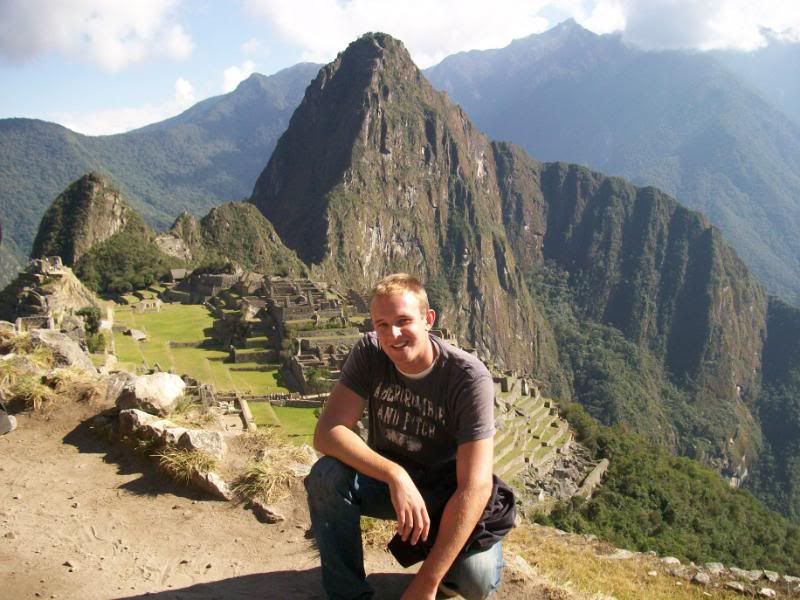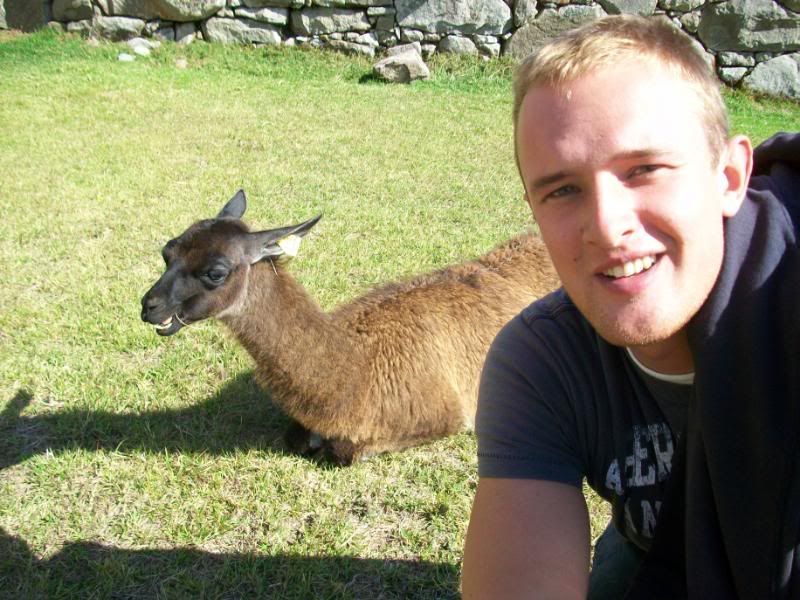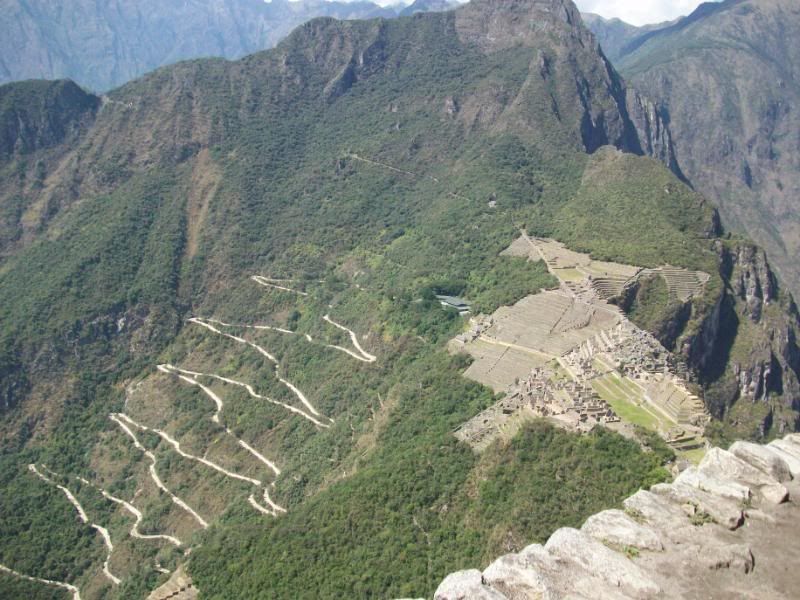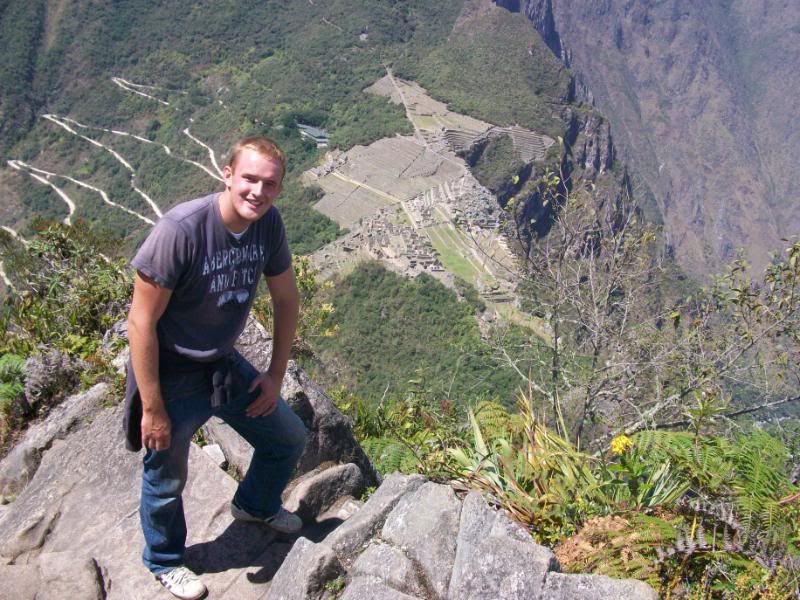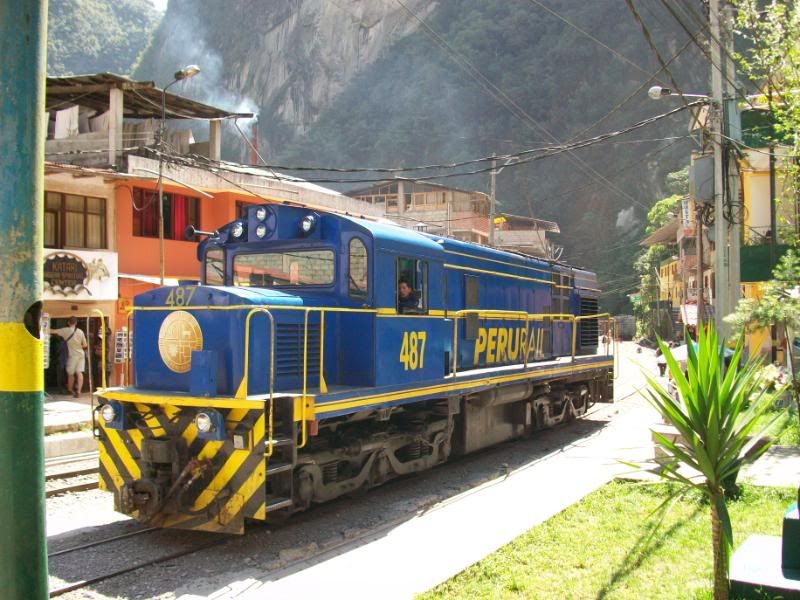 2009 trip best country..... Columbia absoloutely breathtaking
---
Settled in member
Posts: 144
Joined: Wed Apr 30, 2008 6:05 pm
After some time around that area doing some good trailriding through various valleys it was time to push on again and head down to bolivia, apart from Columbia i was incredibly excited about this. Rumour had it that only one road in the entire of Bolivia is paved! Turnes out thats a rumour because that road is under construction!!
On the way down to the border and the gorgeous blue lake titicaca the scsnery got beautiful and the trains and me were racing each other down towards the border!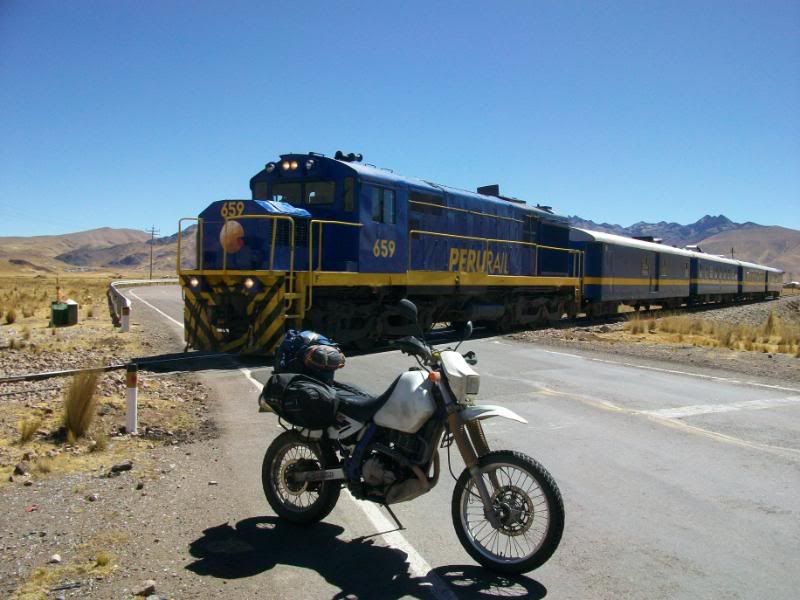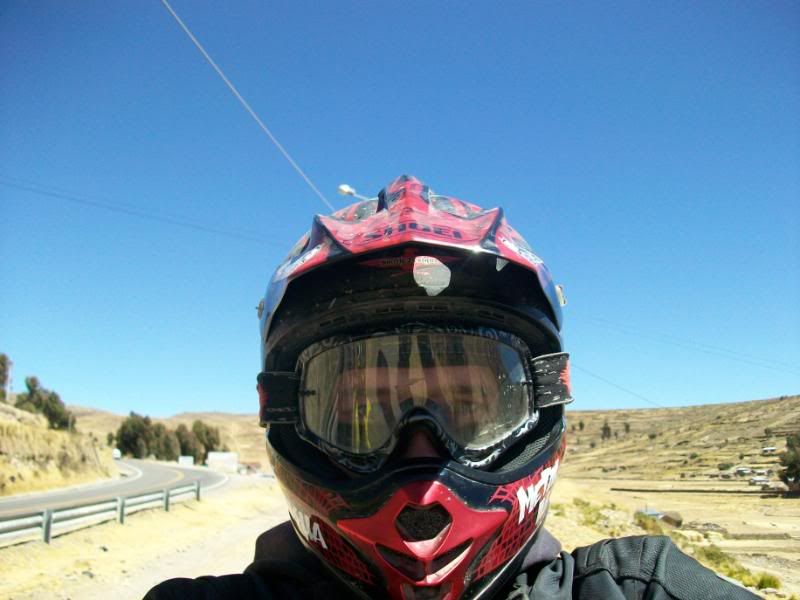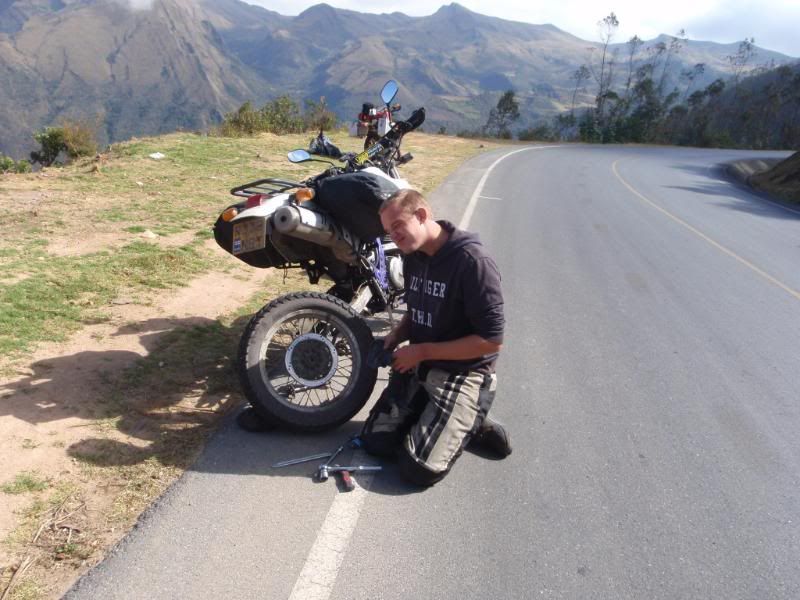 Yep another break down, this time it was only the rear wheel bearings and a big stick that somehow eneded up in the linkages??! Not sure how that happened but no damage so very lucky.
I spent time in lake titicaca visiting islands and into the capital La Paz for a few party nights at the hostels and really just explored Bolivia as much as i could, involved were more funky river crossings, snow and great village festivals.
All the while riding the most technical high speed gravel/mud/clay/rivers that are used instead of roads.!!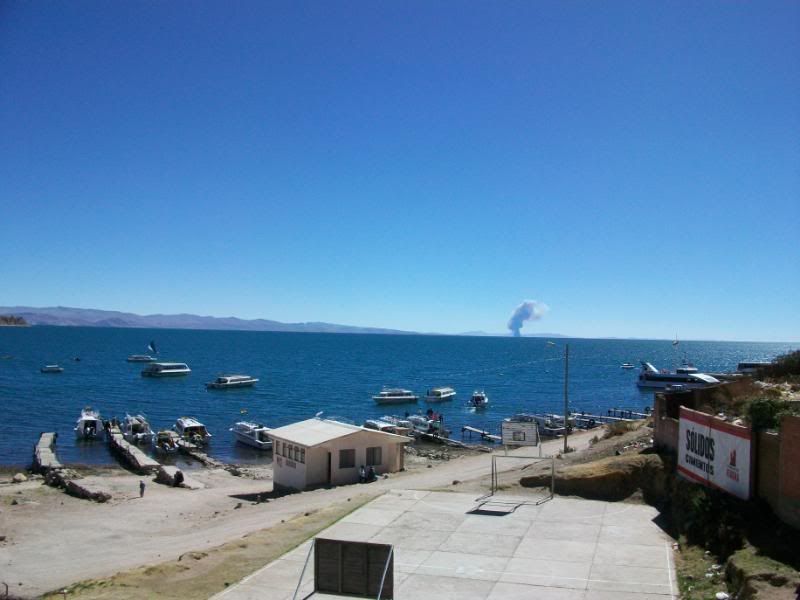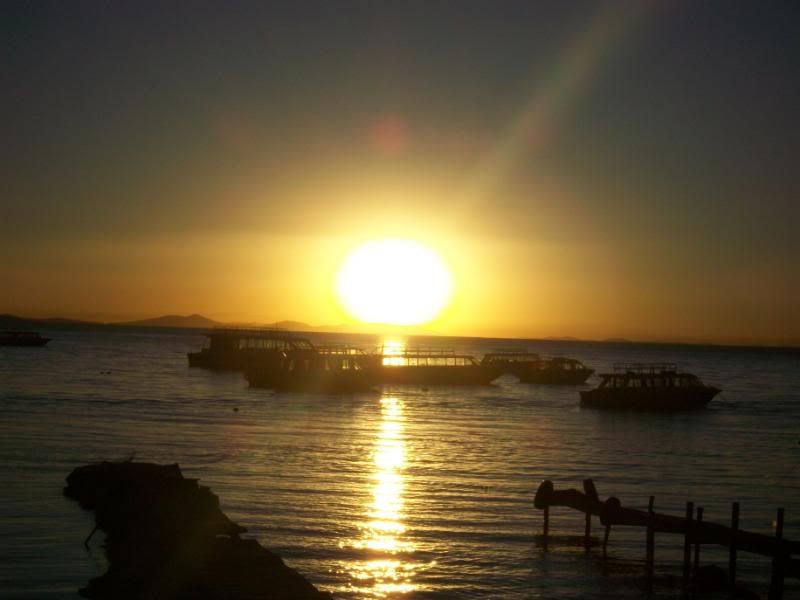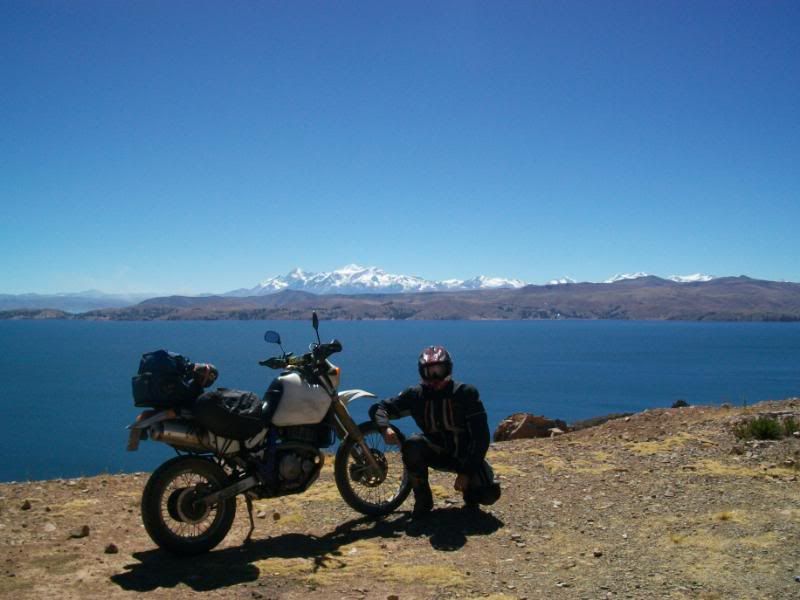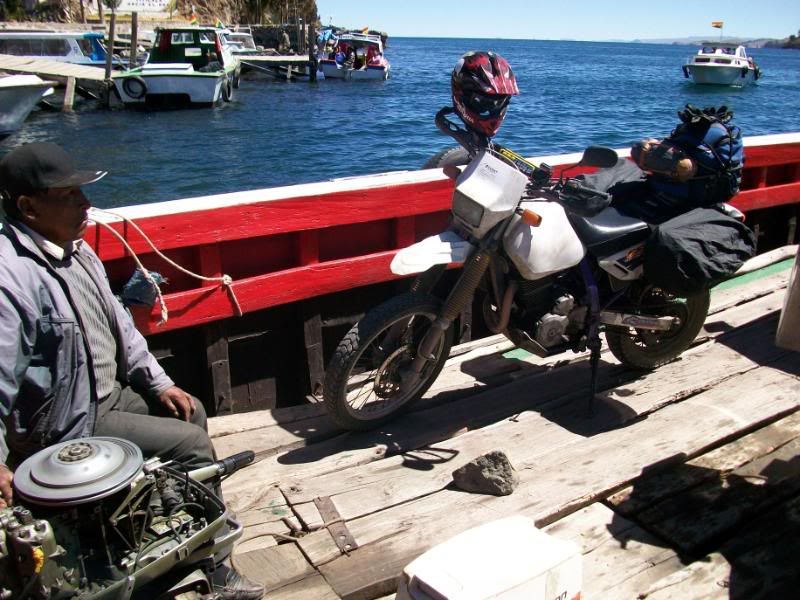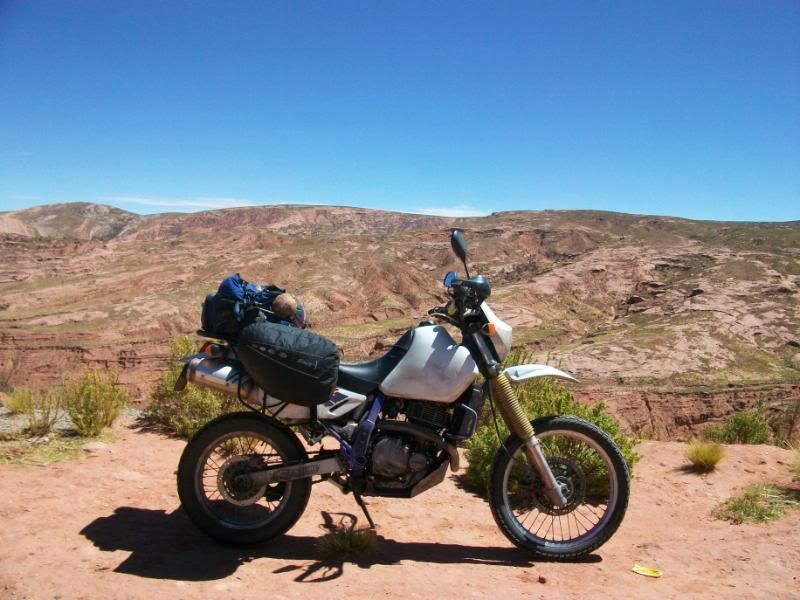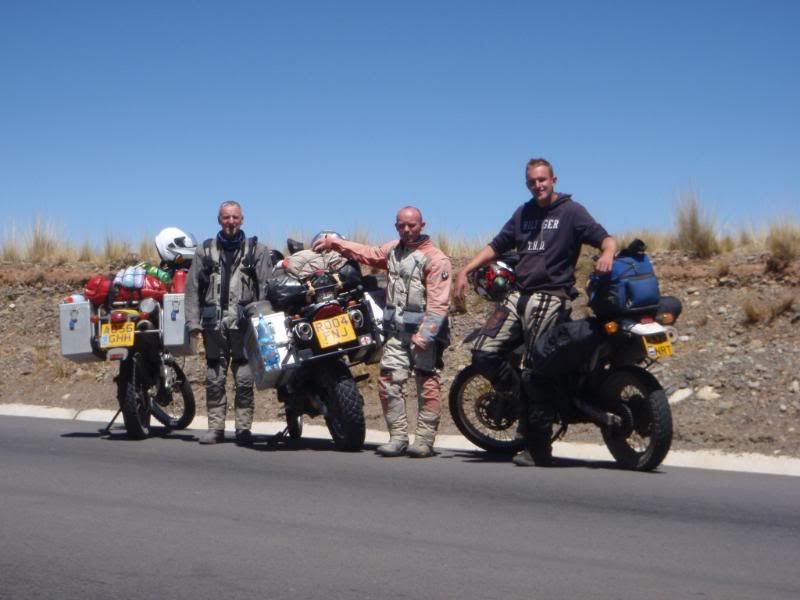 Yep more senglish bikers, funny how you meet in the middle of nowhere yet get to recognise fellow bikers by waving and stopping for a chat!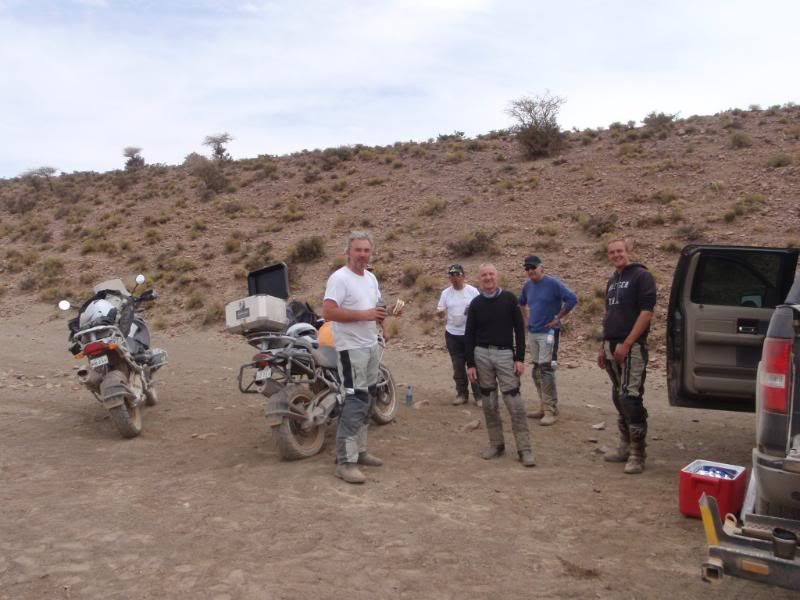 2009 trip best country..... Columbia absoloutely breathtaking
---
Settled in member
Posts: 144
Joined: Wed Apr 30, 2008 6:05 pm
I arrived in the city of Potosi very late one night and got ready for the following day to tour the state co-operative mines. Potosi is the highest city in the world and yet by now i was playing football at night with the locals and feeling fine.
The mines hold a great interest for me, the spanish used to bring slaves in to work here and mine the diamonds and minerals. The conditions were appalling then, they would spend six months living underground labouring the rubble out of the crevices and if they survived the cave ins then they had six months above ground working in the processing grounds with mercury.
Not surprisingly an estimated twelve million people died during that time. A staggering amount for somebodies greed.
Nowadays the miners are all self employed but this is still about as basic as it gets. They work sixteen hour days and there are no real walkways, everything is supported on beams and the carts are all pushed by hand. However the miners were in great spirits which i found amazing.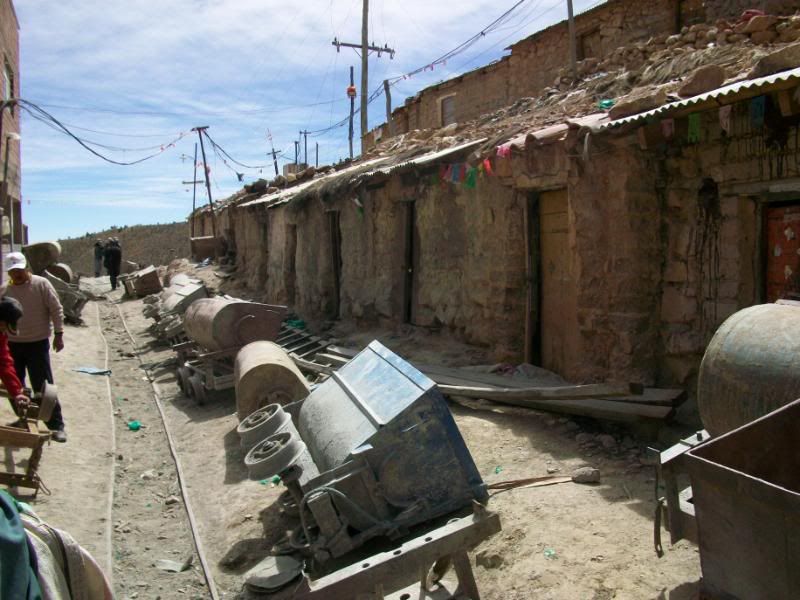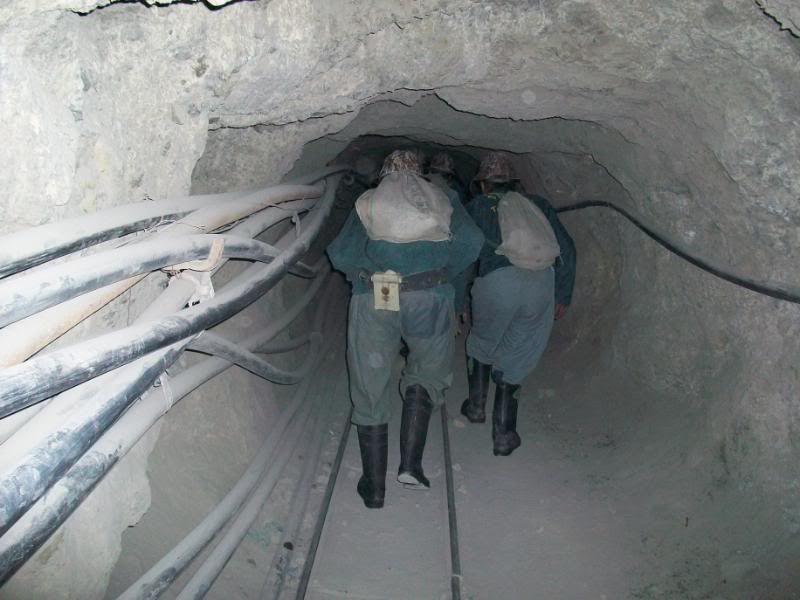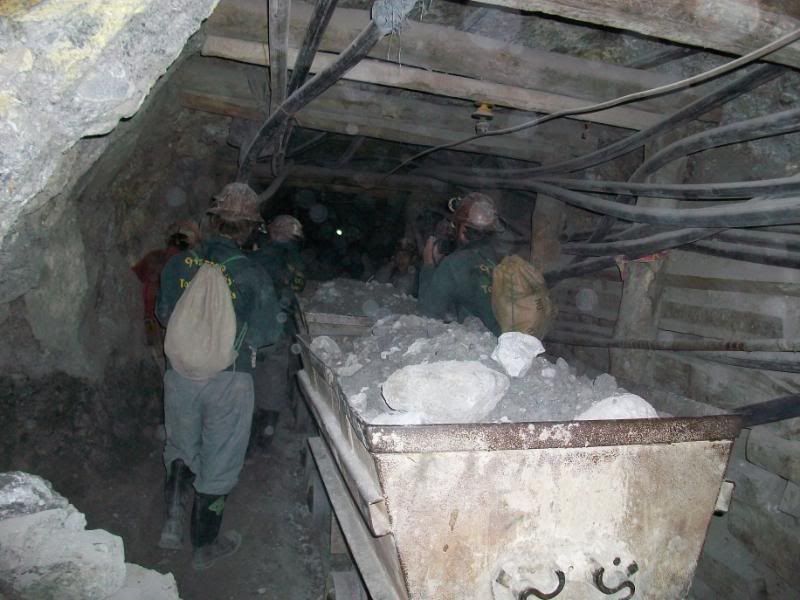 Obviously i wanted to join in so i went down prepared. Gifts of beer and ciggies for the miners and chewing lots of coca leaves to wade off the hunger and help when i was shovelling.
At one point i stopped to help and lost the tour, no problem the miners were great to chat to and explained why they enjoy the job so much which was a great insight. Then it was time for a drink. The whisky they drink is 97% proof. It is so strong i'm thinking in one country they put a white spirit label on it and for bolivia just call it whisky! I managed two or three shots before i was gone. So they took a photo of me having one more and i just had a giggling fit. I was sitting deep inside a mine, drunk on moonshine, high on coca with a rolled up ciggie in my mouth and twelve sticks of dynamite with their fuses stuck in my belt!!
What a great combination. The dynamite was put to good use and there are now no finer words to me than 'we need to blow this up, go light your dynamite and find somewhere to plant it!' what is it bout destruction and loud noise that is so addictive?????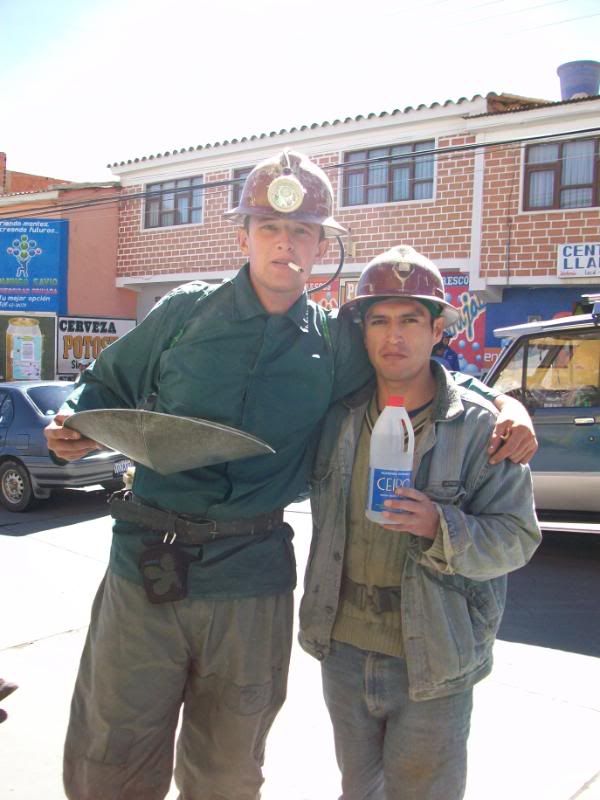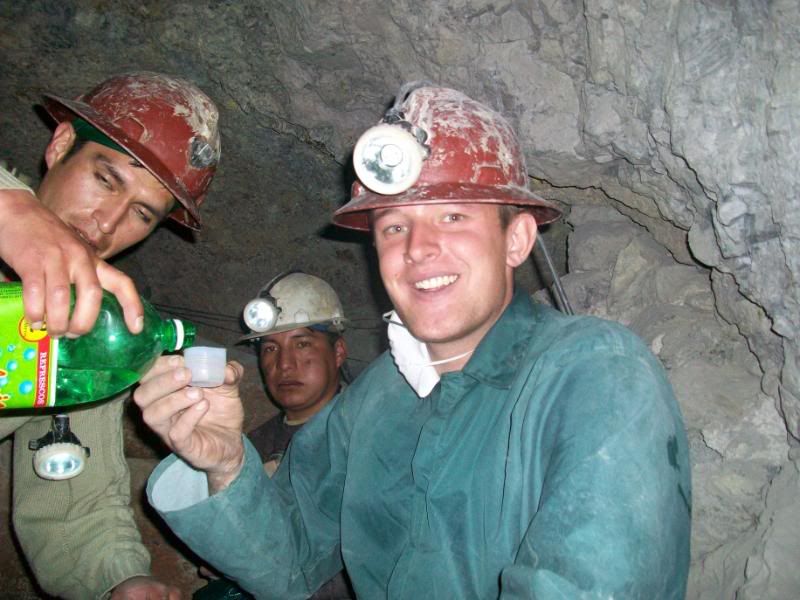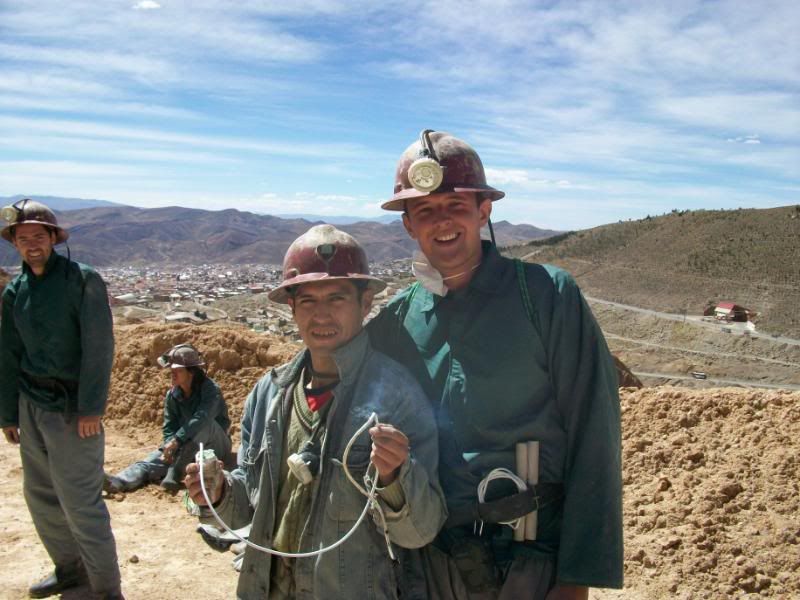 2009 trip best country..... Columbia absoloutely breathtaking
---
Settled in member
Posts: 144
Joined: Wed Apr 30, 2008 6:05 pm
From Potosi it was a great days ride down through the hills to the tiny town of Uyuni in the south west. On the way i came across a staggering sight, about sixty old steam engines just rusting away in the desert. What a strange sight in the middle of nowhere with just the one old set of tracks too.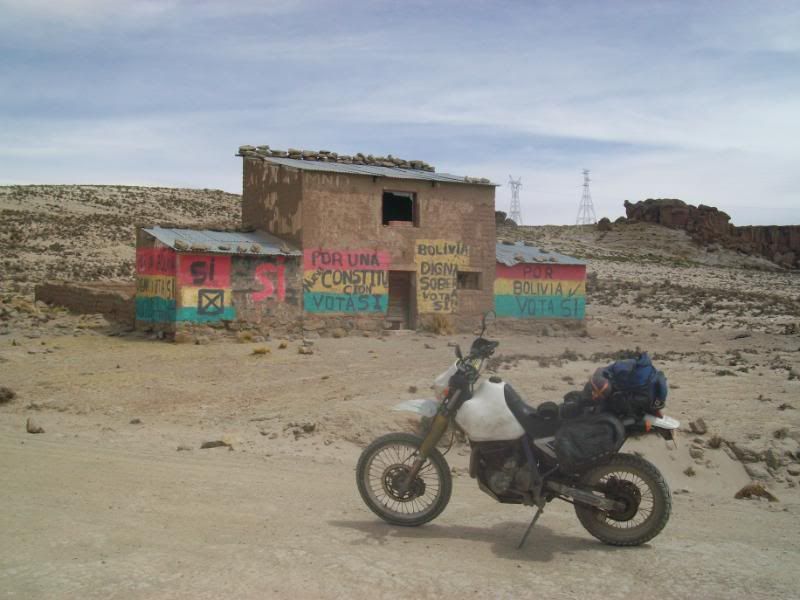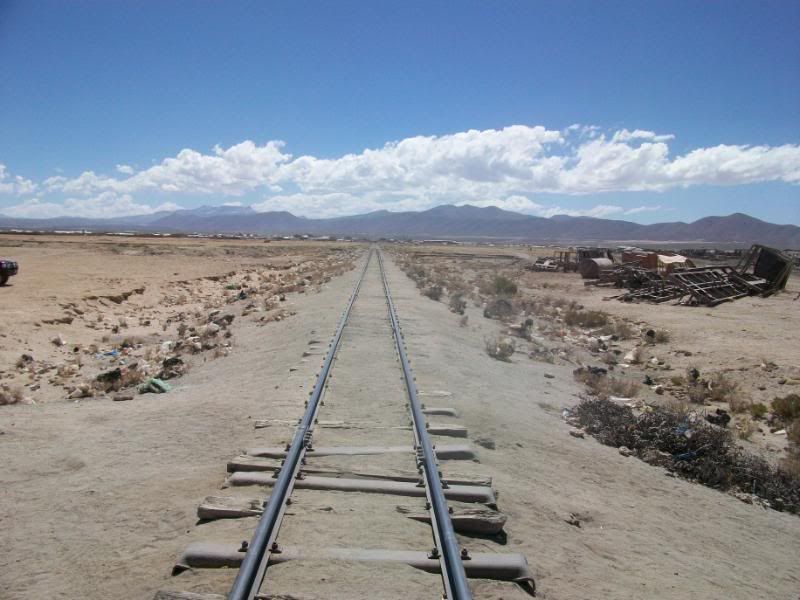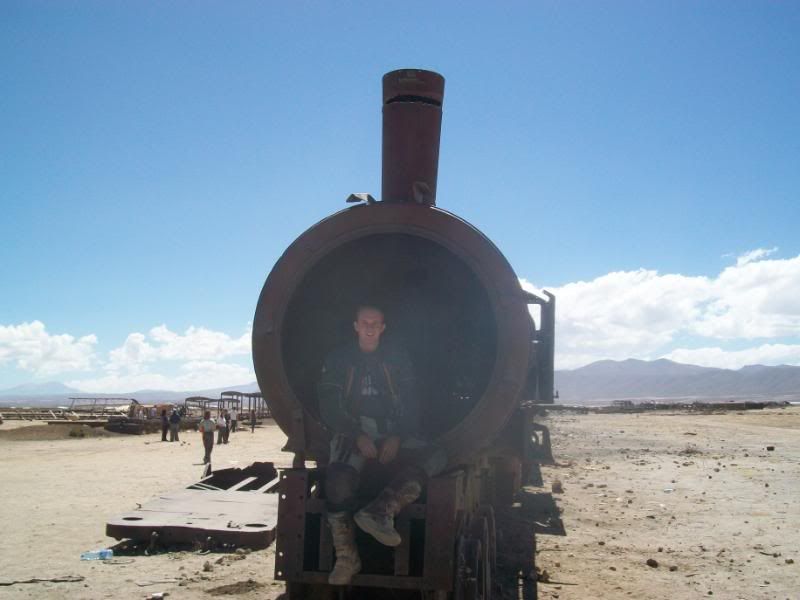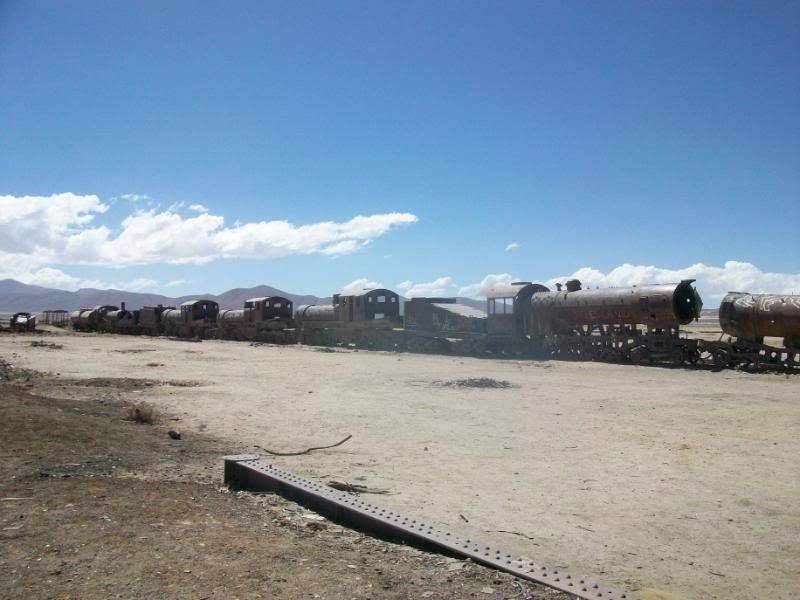 I got to Uyuni and spent a few days exploring the salt flats. Its hard to describe the elation of such isolationa and riding for so long without seeing anything. I camped out for a night and just enjoyed some amazing riding. Yes its flat and straight but somehow the white horizon and lack of anything has to be seen to be appreciated.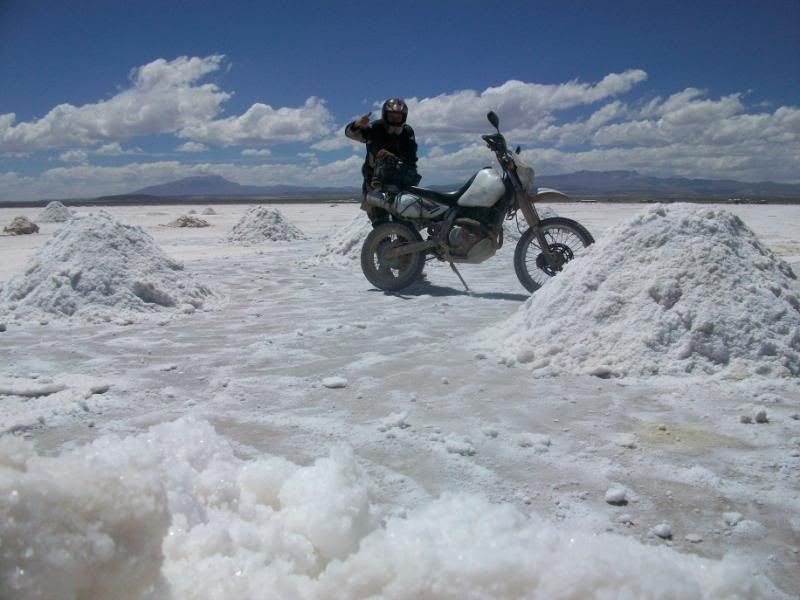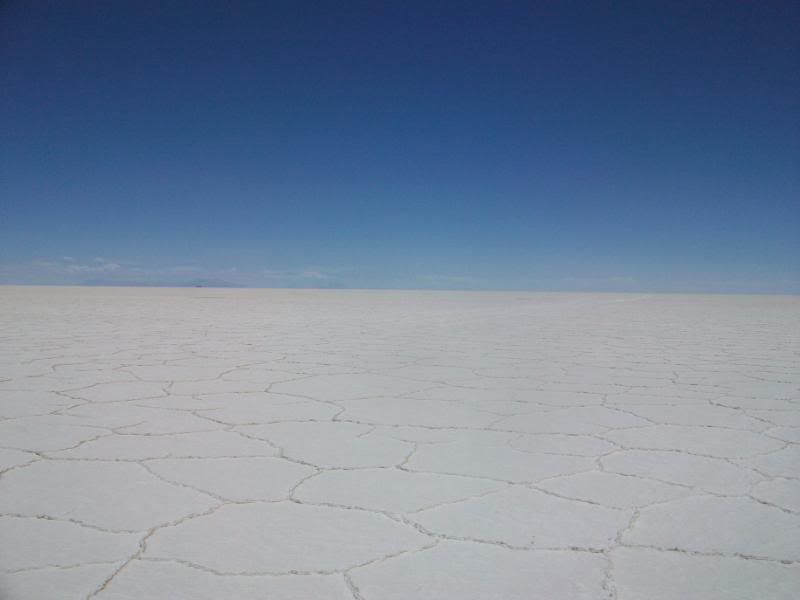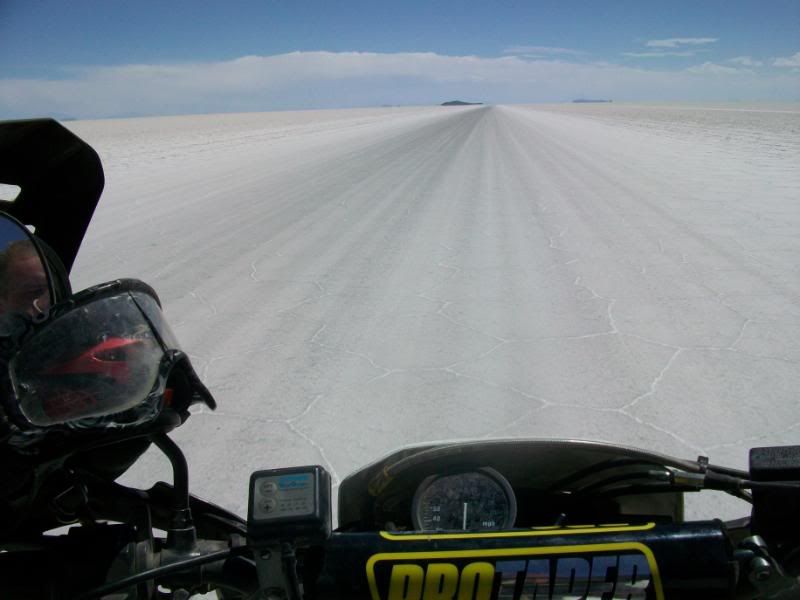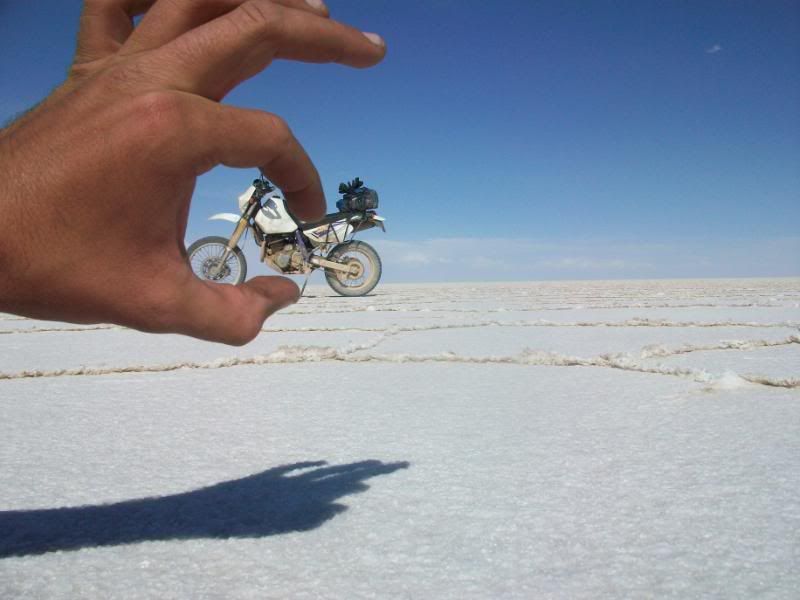 Although now looking at these it was great for some very strange photos and there was even some salt formations in my name..........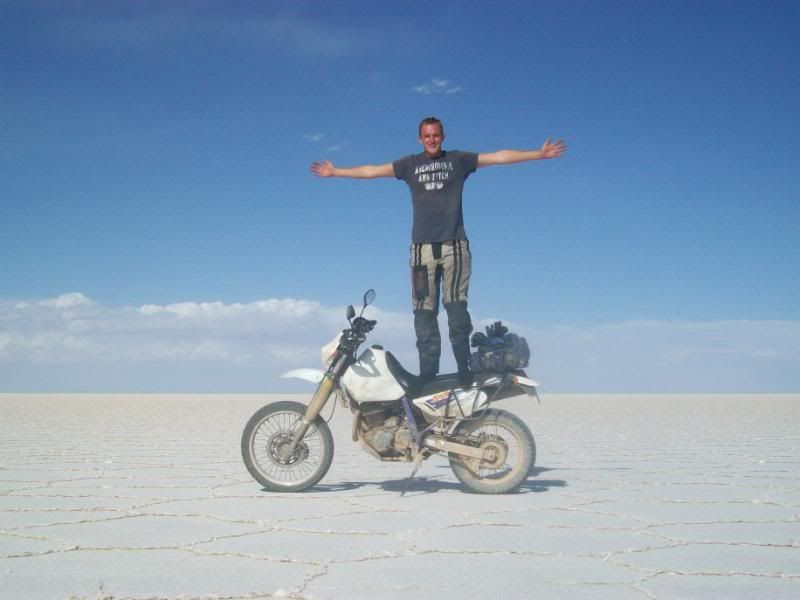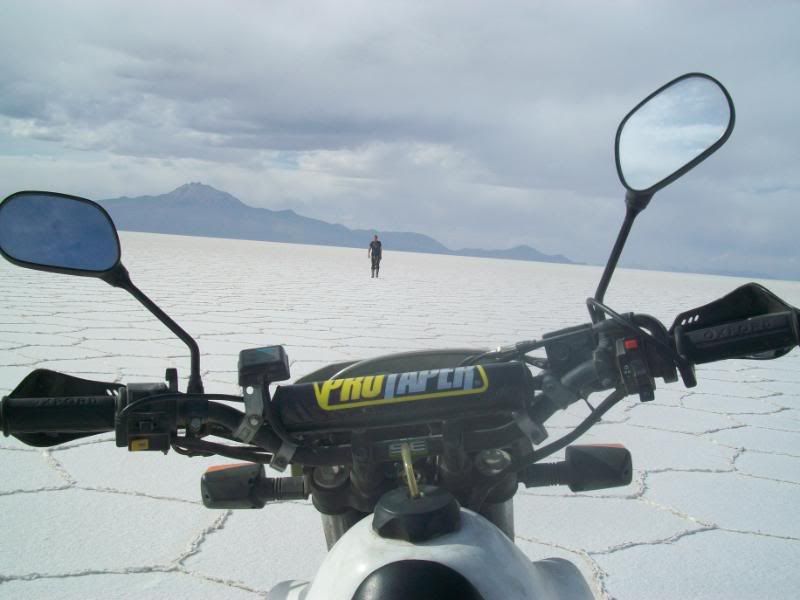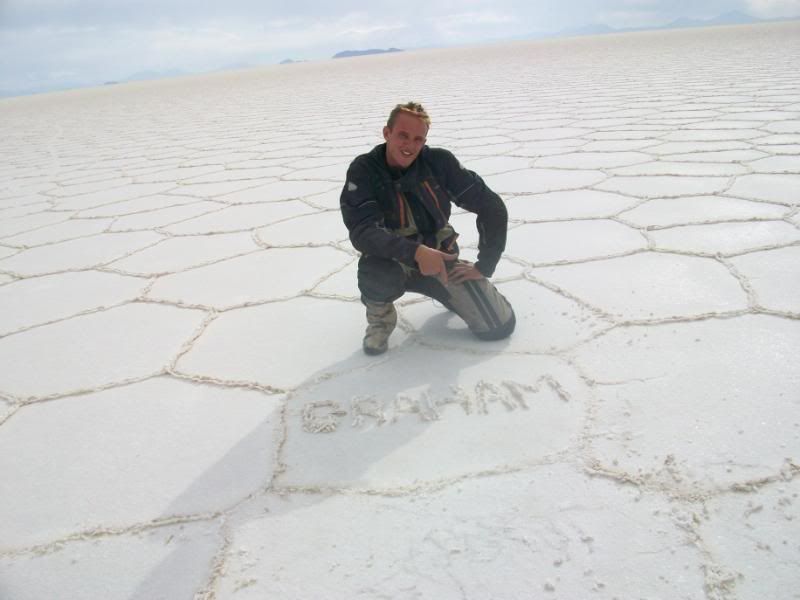 Oh dear........ safety first??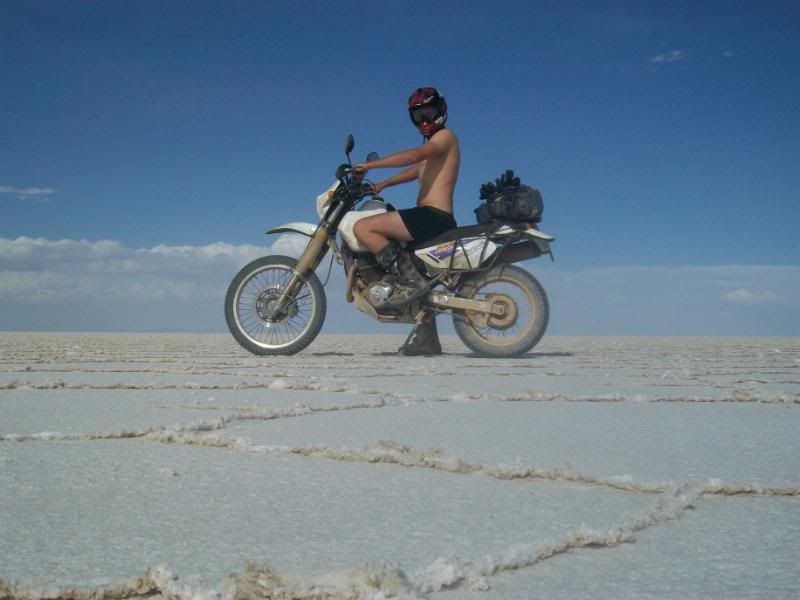 2009 trip best country..... Columbia absoloutely breathtaking
---
Settled in member
Posts: 144
Joined: Wed Apr 30, 2008 6:05 pm
Into Argentina then! And what a shock after the last few months, shops have food and drinks, petrol stations have petrol and everything seems so modern.
But there is always stuff to see on the (boring old tarmac) road. Another landmark, some burst water pipes and classic car rallies were just a few parts of the northern area before i ditched it to drop into Chile.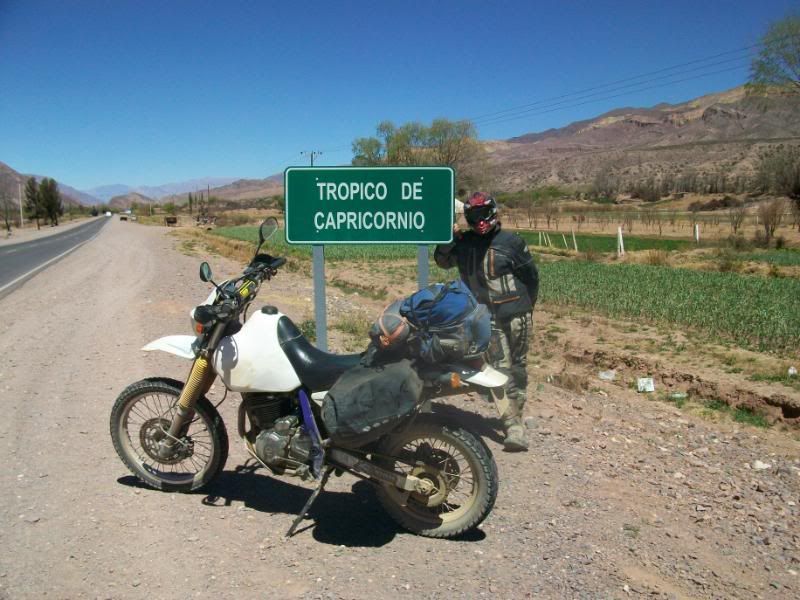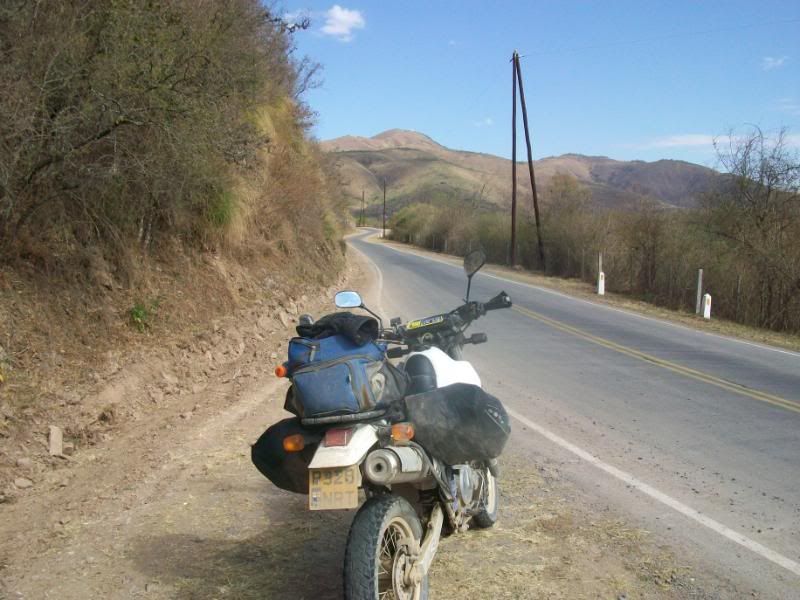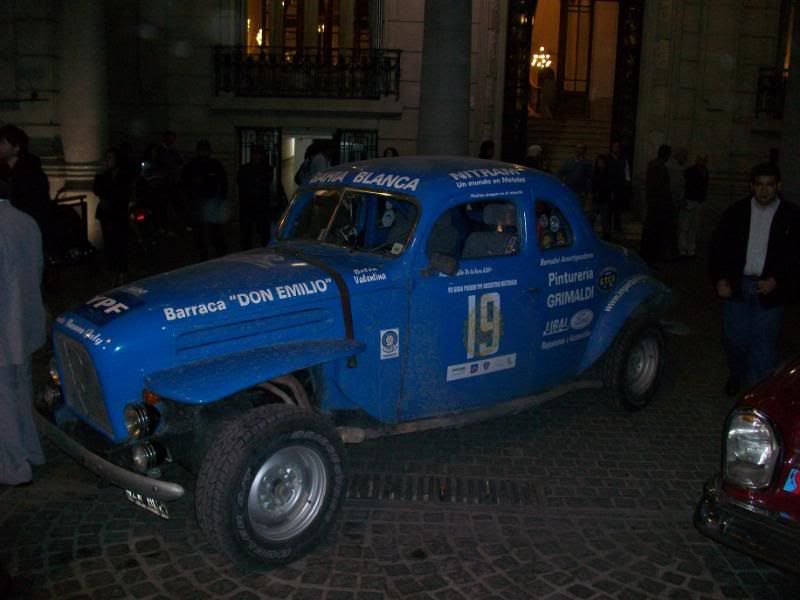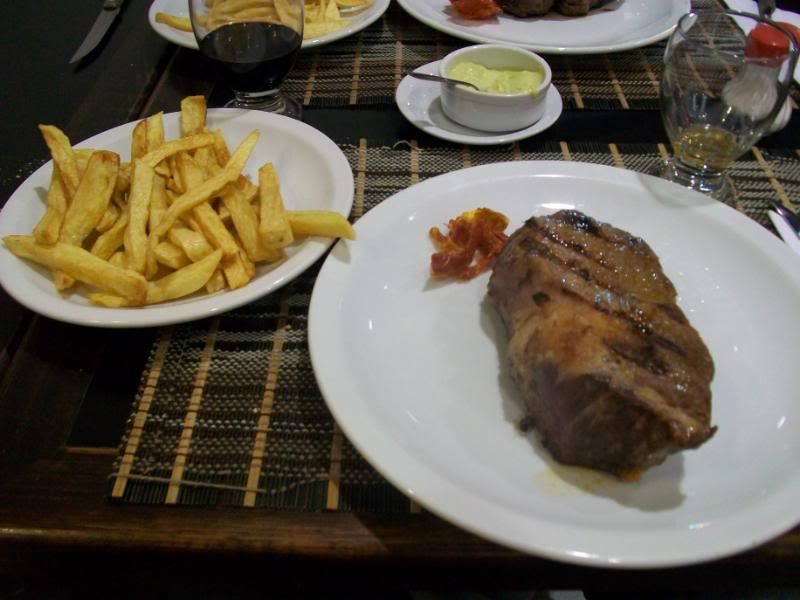 Thats a small steak, seriously i tried the large bife de choriso and although ia te it, going to bed with a kilo of protein sittig in your stomach just means you dont eat for the whole of the following day. Lovely taste though!
Chile was boring, i only dropped in to see the atacama desert and then back into Argentina.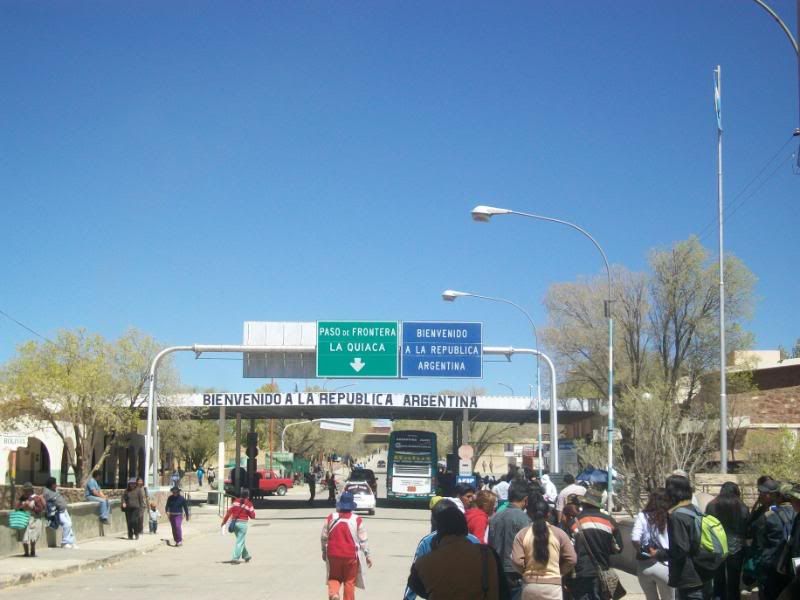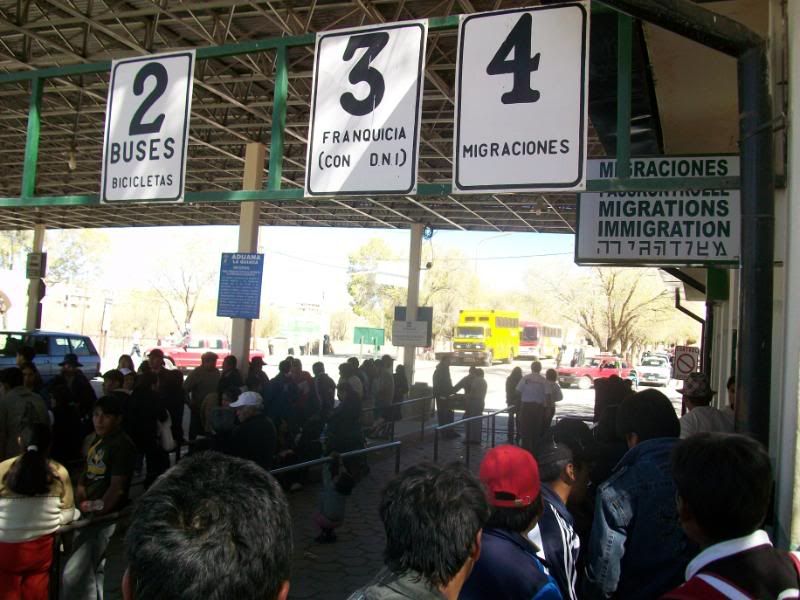 This was where i came seriously unstuck and got caught out badly. I re-entered argentina using copies of the import permits that i had already cancelled. The reason for doing so was because when i leave the bike i dont want any record of it being in the country.
That worked fine until i got stopped at a very fussy checkpoint near Corodoba. Unlucky for me he was insistent i showed my papers and then checked them through the computer. Fuck. Obviously that came up as fake.. insurnace? errrrr no. Driving licnece?? yes but its a laminated photocopy due to so many police trying to rip me off!! I was there for about four hours and after lots of talking and bargaining he gave me a ticket and fine of about thrity quid and told me to be out of Argentina within a day and not to bring the bike back!!!!
Ah well i wasnt going back to Chile so i went north and into Paraguay, actually a nice place so i spent a week looping around their and then back to a border further east with brazil and argentina. I sold the bike their and was chuffed to get enough for the flight home which left me more to play with in the meantime. I kept the vin plates, number plate and v5 so got a good deal. Yes very sad because it marks the end of my amazing journey by bike. But it was getting seriously tired, i jumped it, hot and cold weather, rivers, boats and some serious trails and all over 25,000 miles plus.
But my flight was from Buenos Aires and i was in Brazil so there must be stuff to see and do before then. Yes there was
2009 trip best country..... Columbia absoloutely breathtaking
---
Site Supporter

Posts: 9638
Joined: Thu May 01, 2008 9:42 am
Bike owned: NC30-No9
Location: Chesterfield, United Kingdom
Wicked.. Down the mines would be wicked.. I bet you made those guys day!
IMPERATOR REX ANGLORUM

The V4 is the law..

NC30 - No9 > Back on track
NC30 - In lots of pieces..still
---
Settled in member
Posts: 144
Joined: Wed Apr 30, 2008 6:05 pm
I started off by staying in Puerto Iguacu to see the amazing waterfalls. The trip started in Niagra so to finish off with more waterfalls capped it nicely. They were incredible and everywhere.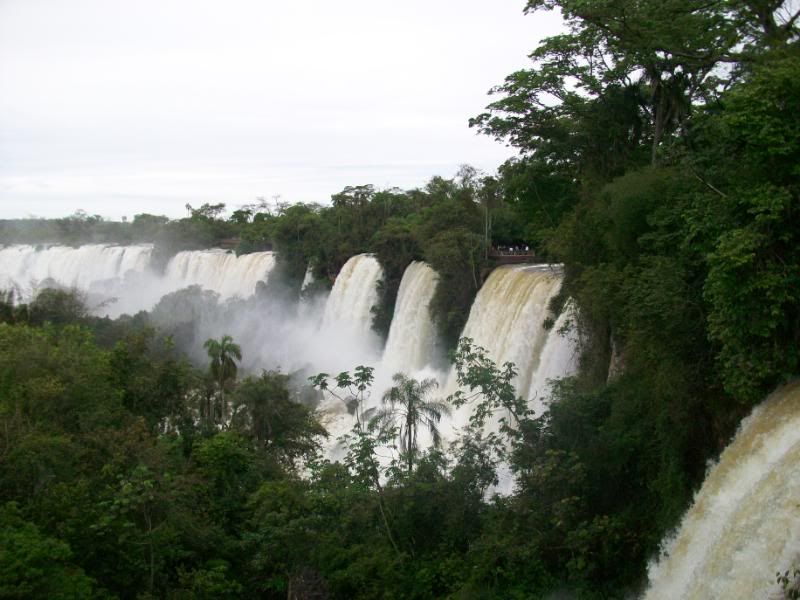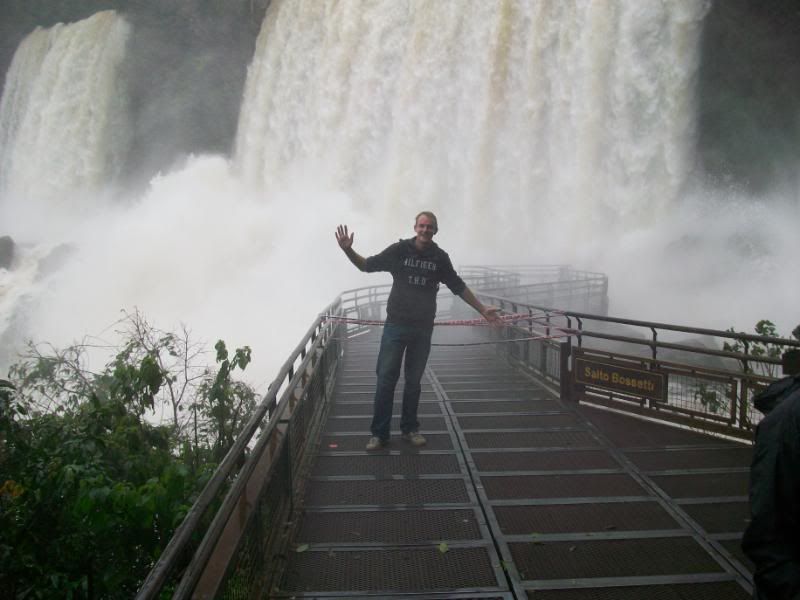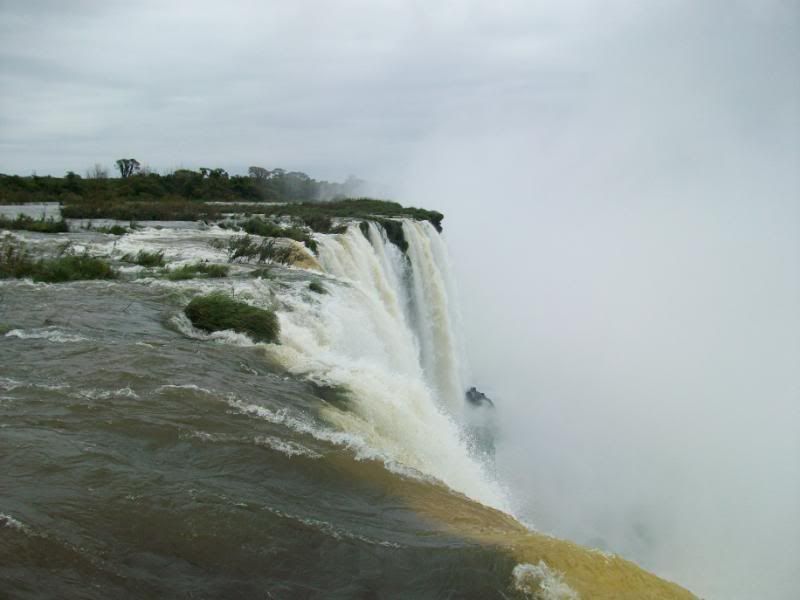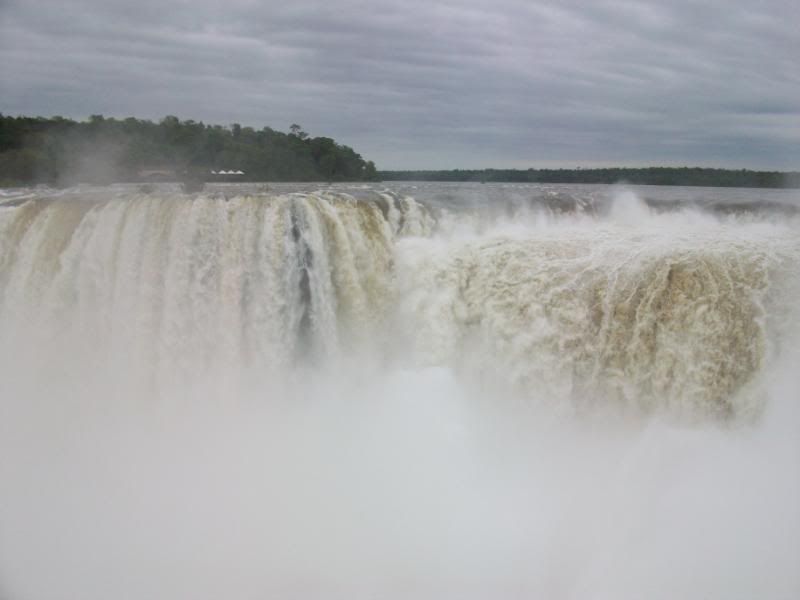 Then time to hop on a bus and spend the last few days in Buenos Aires. I was glad to experience the overnight bus trip because most travellers have to use this as their form of transport. Comfy and nice as it was, you see nothing and as such miss out on alot of the fun of travelling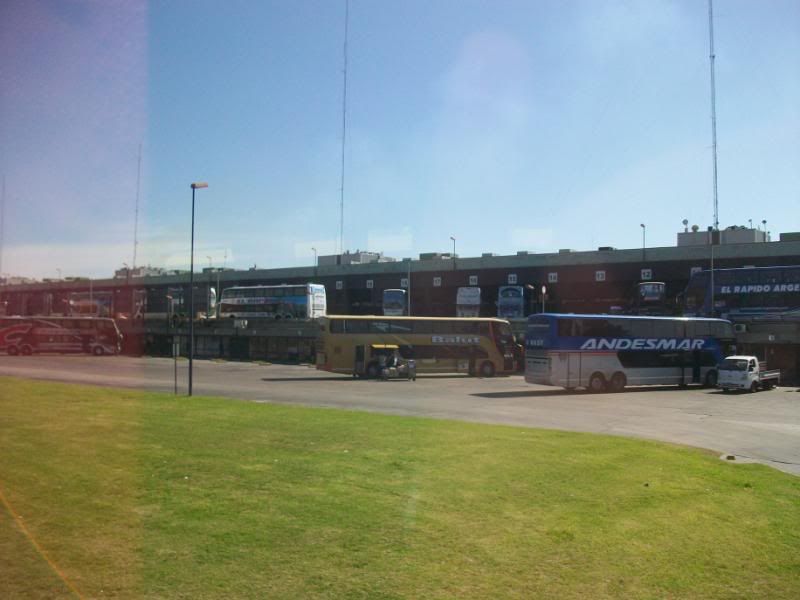 I did a few days actually in Uruguay too before arriving in BA. Another fun little country and then across to BA via ferry.
What an amazing city, i got here for the weekend and had a great hostel full of brits and various people. Everynight starts the same with a few beers, and then out for food and party until the very early hours. A lovely city to walk around too with lots to see and do.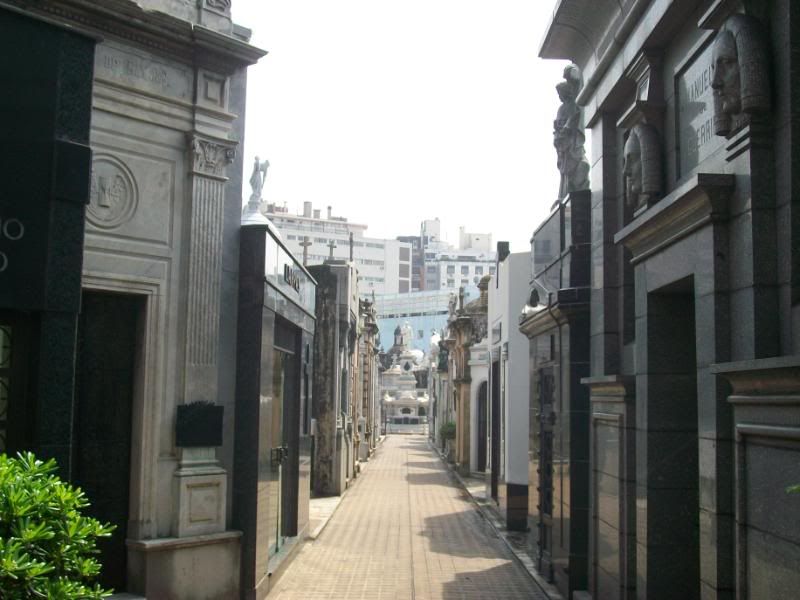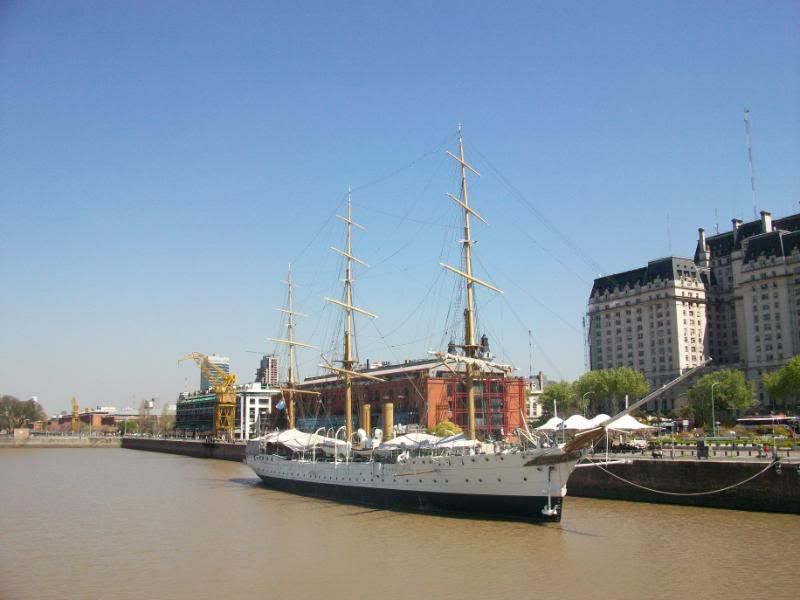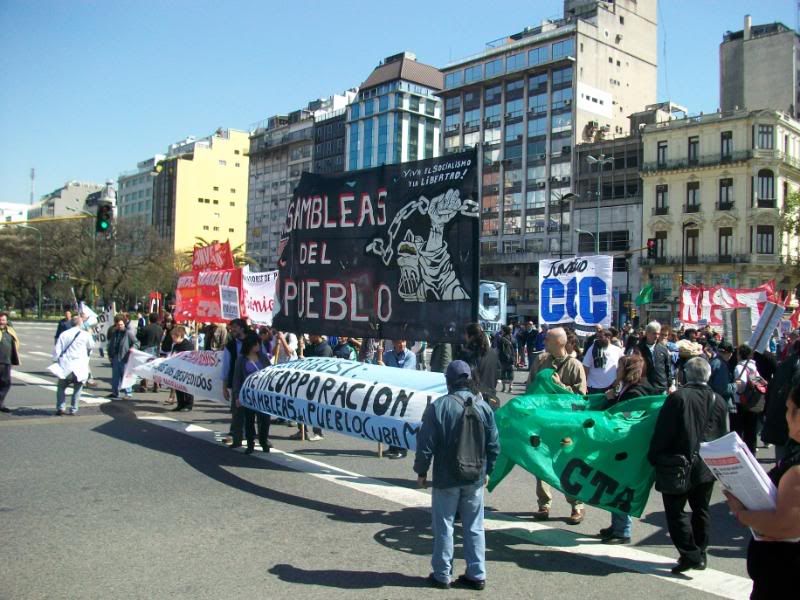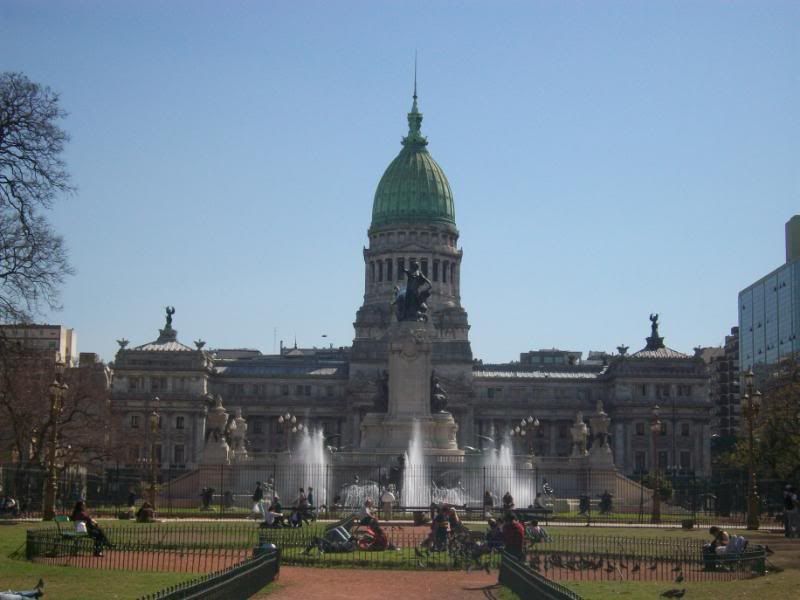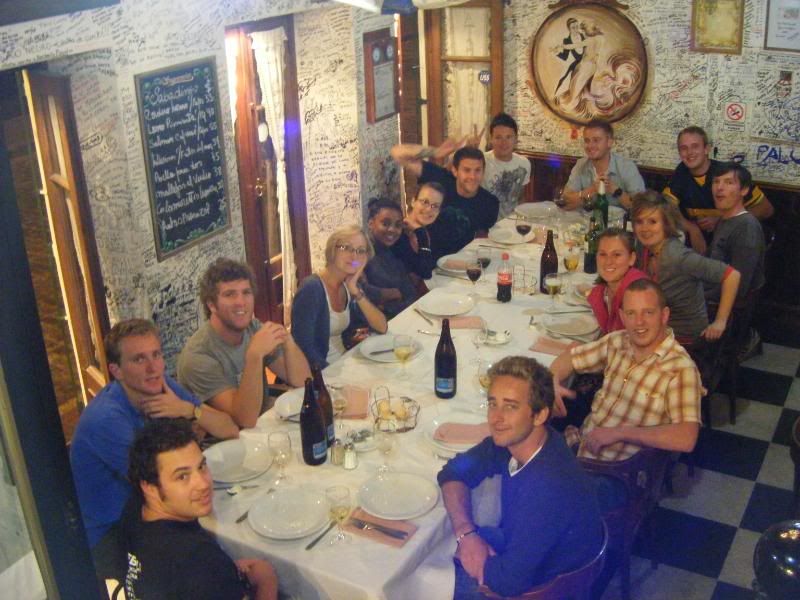 Topped the weekend and my last few days off with a Boca juniors footy match, proper stadium standing on the terraces and right next to the bands and flags. I have never experienced an atmosphere like it. Ninety minutes of jumping singing and dancing was superb!!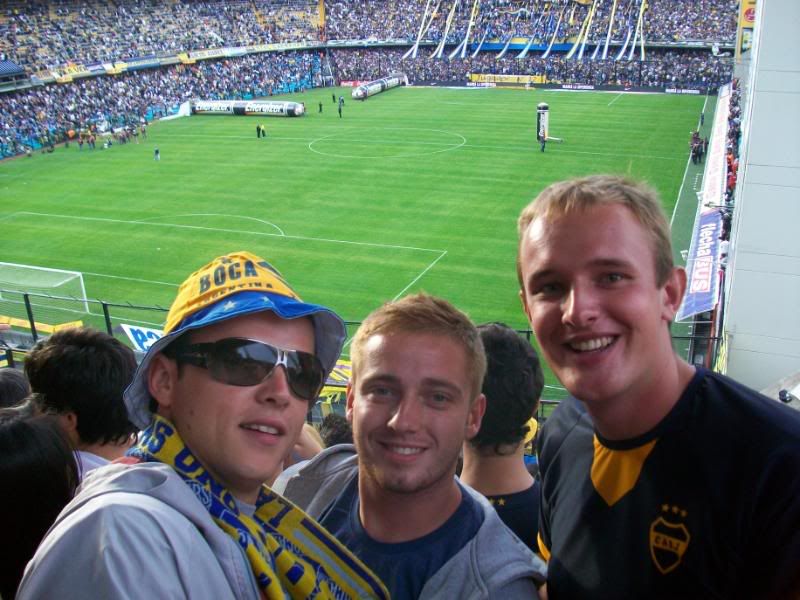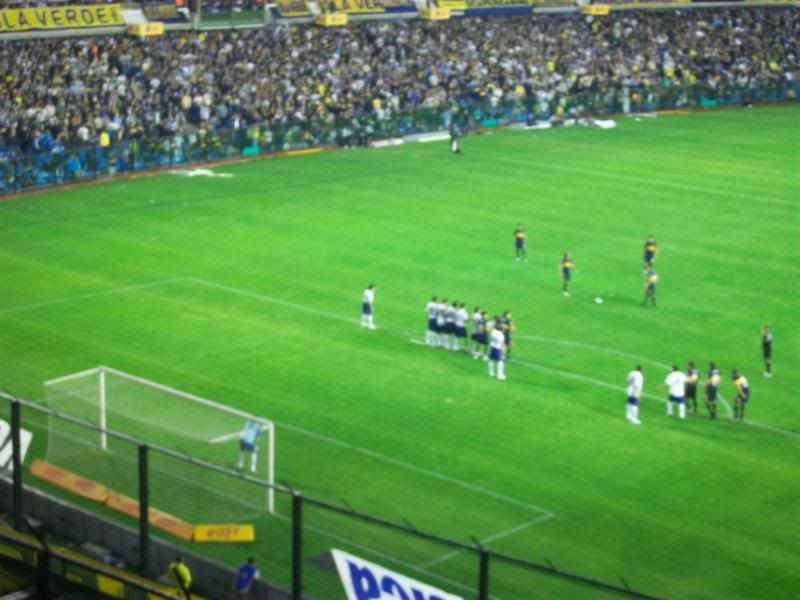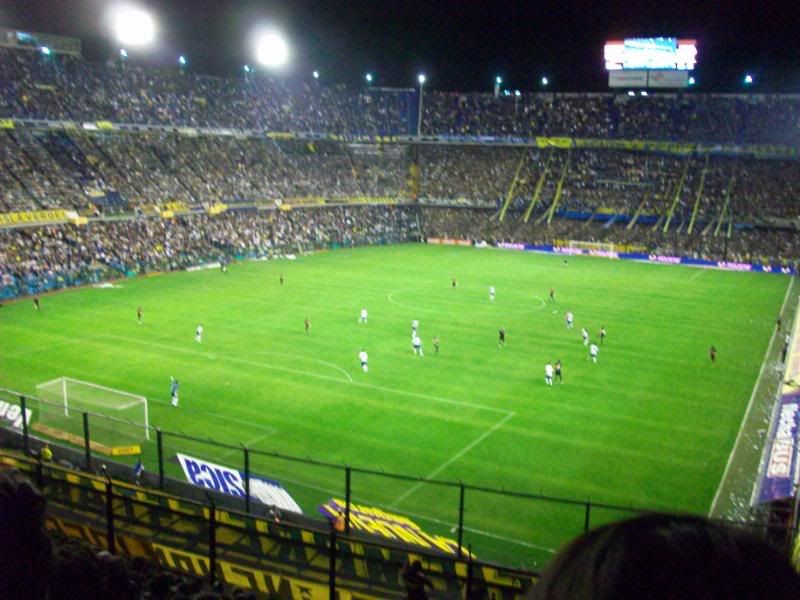 .
2009 trip best country..... Columbia absoloutely breathtaking
---
Settled in member
Posts: 144
Joined: Wed Apr 30, 2008 6:05 pm
So thats it!!!!!!
18 countries total, thosuands of miles on the bike, lots of beer, parties, sights, experiences and culture.
Trails, jumps, deserts, wheelies, breakdowns, borders, and lots and lots of FUN!
I fly home to London in the morning and am of mixed emotions, i'm desperate to see the girly and mates but i'm scared of reality, scared of not knowing how to adjust to normal life. I think that if i get back and its raining and the thought of going back to work becomes too much i might have to.....cry or get at least very angry and drown the sorrows!
But i can now look forward to more great trips. I need something to keep me going so whose for a nurburgring reunion trip next year? Newbies of course are more than welcome but be aware beers on you!!!!!!
See you soooonn





2009 trip best country..... Columbia absoloutely breathtaking
---
---