Settled in member
Posts: 145
Joined: Wed Apr 30, 2008 6:05 pm
Hello everybody

just want to thank you all and especially the many members i've had the pleasure of meeting and riding with over the years and probably for putting up with the various tales we all have between us. I'm sure that there will be many more in the future and long may this site stay as such a close unit of passionate people!
Sadly i wont have the chance to ride with any of you this year and to make it even harder for many of you to stomach heres why...
When i got it

After my magic strip and rebuild touch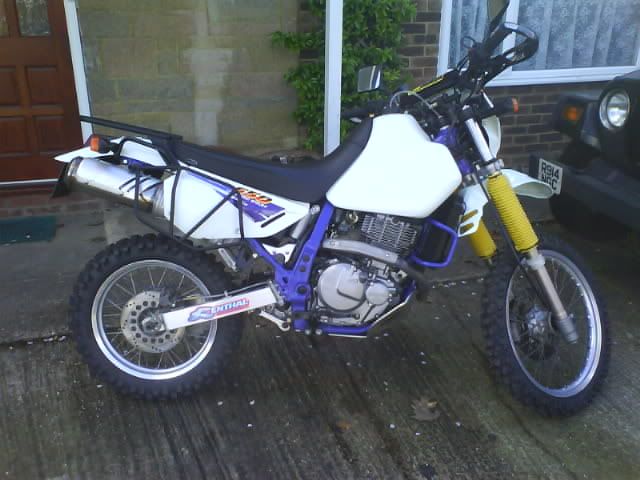 I just got back from the airport where i dropped my latest steed off to be packed into a plane bound for toronto, canada.
Monday
i will be on a plane there too to collect it pack my luggage and head out to start with towards the great USA and a 6 week pass to go from new york to los angeles on off road trails and many points of great interest. Good times

But thats just the start because i'm young stupid and have been saving for this for a long time. So from there i turn left and head through Baja, Mexico, guatemala,honduras,nicaragua,costa rica,panama. Followed by a boat trip and continuing, colombia

,ecuador,peru,bolivia and finally argentina. Very good times.
Needless to say i bored many of you to death with my talk and excitement, now it happens so wish me luck and i'll keep you updated when i can. Hope to see you for some trips when i'm back
2009 trip best country..... Columbia absoloutely breathtaking
---
Site Supporter

Posts: 9578
Joined: Thu May 01, 2008 9:42 am
Bike owned: NC30-No9, NC27
Location: Chesterfield, United Kingdom
Go on man! Woohoo.. That will kick ass far to much.
Don;t go catching the sodding flu though mate..stay away!!
Best of luck and go on man - I am jealous in the most positive way.

I'll see you at the ring again next year

IMPERATOR REX ANGLORUM
The V4 is the law..
NC30 - No9 > My old mate
2005 ZX10 C1H - smashed it to death @Jerez

NC30 - Trackbike...again :)
---
Moderators

Posts: 3398
Joined: Sun Apr 06, 2008 11:25 am
Bike owned: VFR400RR, CBR1000RR6
Location: Belfast, Norn Iron
Contact:
Best of luck to you on you trip Graham, and as Mark says, maybe a 'Ring re-union next year will be in order. All the best with the trip and take plenty of photos and keep a journal as you'll relive every moment of it for years to come.
Ducati 916, not worth a carrott
---
Admin NWAA

Posts: 6485
Joined: Sat Apr 05, 2008 2:06 pm
Location: NorthWest
Contact:
Graham, i know how much you have wanted this and your finaly set to go. i applaud you for having the guts to chuck the job in and realise your dream.
You got my number and for what its worth mate, if ever you come unstuck and are short of a few quid to get you out of a pickle, you only need make a call or get in touch.
However i want lots of pics and one hell of a write up when you get back mate
Not envious at all

Insert Signature Here
---
Site Supporter

Posts: 896
Joined: Sun Oct 12, 2008 10:44 pm
Bike owned: Aprilia RSVR Mille
Location: Hampshire
Sounds like an amazing trip! Enjoy!

---
Site Supporter

Posts: 1430
Joined: Tue Apr 08, 2008 8:52 am
Very envious - counting down to our family trip back home to Asia at the end of the season.
---
Site Supporter

Posts: 10333
Joined: Thu May 01, 2008 9:37 am
Bike owned: NC30 MC21 TZR FZR GSXR RG MITO
Location: Kent
good man

,
nice to hear of someone doing this, like many bikers i so want to do something like this and reading that your going gives me a glimmer of hope that one day i'll be off too
stay safe and enjoy
---
Settled in member
Posts: 120
Joined: Sat May 03, 2008 6:15 pm
Sounds cracking that does!!

Are ya going solo?
---
Site Supporter

Posts: 352
Joined: Fri Sep 19, 2008 2:01 pm
Bike owned: NC30,CG125 FJS600 SILVERWING
Location: Manchester
WOW WOW WOW WOW WOW.

All the very best. If you get chance update this thread from time to time. I would love to do something like that. +1 on the envy!!!!!!!!!!!!!!!!

I look forward to pics etc.

Good luck
AL
400GB MCN Fantasy League Champion
---
NWAA Supporter

Posts: 525
Joined: Sat Jul 05, 2008 10:37 am
send us pictures, take care, have fun, don't drink too much root beer :)

tom4
---
---