Forum rules
Please can you post items for sale or wanted in the correct For Sale section. Items / bikes for sale here will be removed without warning. Reasons for this are in the FAQ. Thanks
Settled in member
Posts: 119
Joined: Mon Sep 16, 2013 4:12 pm
Bike owned: GK76a GSXR400R & TZR250RS
Location: Fife, Scotland
Hi folks.

As one of the newer members on here I thought I'd catalogue what I've done so far on the major service & tidy-up that I'm in the middle of, so if any long term GK76a owners have any advice or hints & tips that I don't know about please feel free to comment.
To refresh people's memory, I bought this particular bike from forum member "4hundread" last September who was just a few miles up the road from me. I only rode it a handful of times before taking it in to my work place so I could chip away at cleaning, servicing & tidying it up over the winter months.
Just before the Chrismas / New Year hol's I managed to extract the engine & bunged & blanked it up ready for a good clean as it was dirty due to the previous owner using it to commute to work, plus it had also had a leaking clutch push-rod seal which I replaced back in the summer. I spent a good couple of hours one morning giving it a good clean before I could check the valve clearances, check the clutch plates for wear etc & remove the sump to see how much, if any, crap was lurking inside it & on the oil pump pick-up's filter screen.
Dirt & oily filth (due to the leaking seal) every where!
It doesn't look it, but it's much cleaner now! (The engine paints showing its age though).
I drove in to work on one of my days off so I could get piece & quiet to get stuck in to checking & noting down all the valve clearances & to see how good / bad the top-end was. First impressions, after removing the cam cover, were good as there was no obvious damage to be seen, just lots of shiny cam lobes. I gave the top run of the cam chain a quick shoogle which revealed that the cam chain tensioner was doing its job as there was very little up & down free-play. I examined all the cam lobes with the aid of a X2 magnifier & found no evidence of wear, scoring or pitting anywhere on them which was a relief, so the top-end looks to be low mileage.

So far so good .....

Checking all 16 valve clearances, (which are more "shim in a recess" than "bucket & shim"), revealed two below their lower limit, two bang on their lower limit & four others just above their lower limit. (Valve clearance limits for GK76a motors are inlet = 0.13 - 0.23 mm & exhaust = 0.20 - 0.30 mm).
Next I removed the oil sump pan, which revealed this lot .....

On finding all the above crap I removed the clutch cover which revealed even more debris!

Once I got over the shock of seeing so much debris I cleaned it all out of the clutch cover, sump & off the oil pump's pick up screen & put it all on a clean pad so I could run a magnet through it all to see how much ferrous chips & slivers were hidden amongst all the slivers of blue Hylomar, black silicon sealant & the large chunks of some type of hard, reddish brown sealant! Thankfully there were only half a dozen tiny metal chips. Phew !! As best I could I used a torch to have a good look for more debris & to check for any visible damage on the teeth of the gears, primary drive etc but saw nothing obvious.
Once happy I'd got all the debris out I started removing & checking the thickness of all 32 of the shims on the engine & the spare cyl. head, (that came with the bike), to see if I could re-adjust some of the clearances with what shims I had available. After a bit of thinking, head scratching & a bit of basic maths I worked out I could sort out four of the clearances with what I had but needed four 2.25 mm shims to sort out the other four needing adjustment.
Removing the shims was a dawdle.

Gently lever each rocker to one side, push it down so it snagged onto the side of the shims' recess & fish the shims out with a magnet.
To refit them I put a little blob of grease on my R/H fore finger, stuck the shim to it & refitted the shim. Still managed to drop two shims, but they were easily retrieved wi' my magnet on a stick. I managed to source four 7.48 mm diameter valve shims from my local Suzuki emporium. (Cupar Motorcycles). Unfortunately, they only had one "used" 2.25 mm thick shim so I ended up having to buy the last three new 2.25 mm's that they had in stock which, curiously, came in a little resealable bag with a WURTH label & part number on it! (For anyone interested the Pt. No. was 0504075 225 , with the 75 refering to the shim diameter & the last 3 digits (225) referring to the thickness of shim).

I've inspected the clutch & all looks pretty good in there. I found & noted down some useful checks & service limits that are in the English language service manuals that are available to view via this forum, (for the GK73a GSXR 400 & GK75a GSF 400 Bandit).
On removal, I checked the free length of the 5 pressure plate springs & all five are bang on the 31.0 mm minimum free length! (I'll replace 'em with a set of EBC springs). As for the friction plates, there's no significant wear as they are all well above the 2.60 mm thick wear limit, ranging from 2.96 - 3.01 mm thick. (The "New" thickness dim's in the manuals are 2.90 - 3.10 mm thick). All the steel plates are serviceable, showing no evidence of wear & no serious discolouration from any slipping. The slots on the centre clutch drum & the tangs on the outer basket have only light surface wear on their contact surfaces as I can't feel any wear ridges with a finger nail.
Another thing I checked on the top-end was the cam chain for stretch between the camshaft sprockets with a vernier caliper, which is measured over 20 links. The stretch is measured between the 1st links rivet & the 20th links rivet, ( 21 rivets ), & the Service Limit is 143.0 mm's. My cam-chain measured in at 140 mm between 1st & 21st rivet so should be fine for a good few miles yet.

So that just about wraps up the engine side of things for now, unless anyone can recommend any other checks worth doing before I refit the covers.

Once the engine's re-fitted I'm planning to do a compression test to find out how healthy the rings & bores are & how well the valves are sealing.

So, next it was the turn of the chassis & I was able to chip away at dismantling the front end so I could service the front forks & steering head bearings. Both head-race taper roller bearing sets were still in good condition so just needed some fresh grease before re-fitting the bottom yolk to the head stock.
The forks were also found to be in pretty good nick with no evidence of leaks & no free play felt in both "sliders", but I had to smooth down & grease some corrosion spots at the base of the "sliders" or they would damage the oil seals when fully compressed. On emptying each leg of fluid, the L/H leg contained filthy red coloured fluid & the R/H contained filthy green coloured fluid! Once drained I rinsed out each leg 3 times with white spirit to get rid of any build-up of sludge & debris & left them overnight in a warm room to let any white spirit residue evaporate.
I also managed to remove the swing-arm & shock to clean & inspected all the bearings & bushes. I've had to order the bearing & bush, on the bottom suspension link, for the bottom shock mount as the internal seals have worn letting in water & turning it in to a rusty, corroded mess! Thankfully, all the other bearings & bushes are still serviceable.
While awaiting a new lower suspension link bearing & bush, I thought I'd better have a go at finding a combination of parts from this lot that would help me to fit a rear shock to replace the HAGON shock that was fitted & which has a seized damping adjuster screw that I've failed miserably to un-seize!
To the left of the Hagon shock is the ProJection Components made short "dog bones", which are 202 mm's between hole centre's, that were fitted along with the Hagon. On the right is a pair of standard "dog bones" I found in the spares stash that came with the bike when I bought it which are 210 mm's between hole centre's. Quite a difference!! (The bearing & bush on the right-hand end of the lower link are the ones being replaced, but they were fine for trial fit's.

The replacement rear shock is from a GSXR 600 K6/K7 which was bought off Ebay the tail-end of last November for a very reasonable £70 quid & is like new as there's no corrosion anywhere on it. According to fellow GK76a owners on this forum, this should just "drop straight in". Well, there's only one way to find out .....

:)
So, on removing the Hagon & placing it beside the the K6/7 shock it was found to be a good bit shorter than the latter, being 290 mm's between hole centre's compared to the GSXR's 315 mm's between hole centre's! Hmmmmm ..... Anyhow, during the first trial fit of the K6/7 shock, along with the pair of standard "dog bones", I discovered that the lower shock mount & its respective bush/bearing on the lower link arm were no where near lining up due to the top of the lower shock mount fork fouling against the lower link!! Thankfully the TOP shock mount is bolted to the frame, so it was removed, turned 180 degrees & refitted. ( How are they orientated on bone-stock GK76a's ?? ). Before I did though I measured the distance between the hole centre's of the top shock mount & the lower suspension link arm's frame mounting, which was 253 mm's. Post removal, turning & refitting, the distance was now 266 mm's, a difference of 13 mm's. That might help! .....
Thankfully a second trial fit was a success as the lower shock mount now lined up easily with its bearing/bush on the lower link arm. See below .....
The only major problem I found was that the bottom-end of the spring was fouling against the lower, forward edge of the centre casting .....
..... remedied by "fettling" said edge with a diamond cut rotary file thus.....
..... to a depth of 3 mm to give a clearance at the spring of approx. 2.5 mm's. Major problem sorted & job seemingly jobbed !
Not quite a "drops straight in" job, but relatively easy to work out what needed done. Oooh! When I remember, before I removed the swing arm/shock assembly for cleaning/servicing etc. I measured between the front of the weld to the rear of the L/H side of the swing-arm & the forward (lower) L/H bungee hook on the sub-frame for comparison purposes post shock replacement. With the Hagon shock, short dog bones & top shock mount in original position distance was 301 mm's.
With the K6/7 shock, standard dog bones & top shock mount in new position the distance was now 291 mm's, a loss of 10 mm's which isn't too bad. I need to know what the distance is on a bone-stock GK76a, that's still wearing its original stock shock assembly etc., to see if my bikes back-end is higher, the same as or lower than a "stocker". Time will also tell if the replacement is a big improvement over the now unadjustable Hagon !
Apologies for the long winded first post about this topic, folks.

I can't seem to get a minute to myself at home lately, but that's me up to date on the story so far. I collected the new OEM bearing & bush for the lower suspension link arm yesterday so I'll be able to bolt the swing-arm & replacement shock back on to the frame this week, then I can start on refurb'ing both wheels.

So, till next time folks .....
Cho the noo.
Wullie.

Last edited by
wullie3xv9
on Mon Mar 24, 2014 9:51 pm, edited 1 time in total.
---
Settled in member
Posts: 134
Joined: Tue Apr 27, 2010 9:32 pm
Bike owned: 1990 gk76a
Location: calne wiltshire
Nice work Bet your glad you took the sump off !!! . Some usefull info i am going to look at the valve shims on mine next month wont have to guess what im doing now LOL

---
Familiar Member
Posts: 287
Joined: Thu Sep 08, 2011 5:27 pm
Nice write up, good to see a good story behind the bike and plenty of pictures.
That stuff you found in the bottom of the sump looks like the glue holding the magnets on the rotor. Happened to my mates track 400 engine i rebuilt awhile back.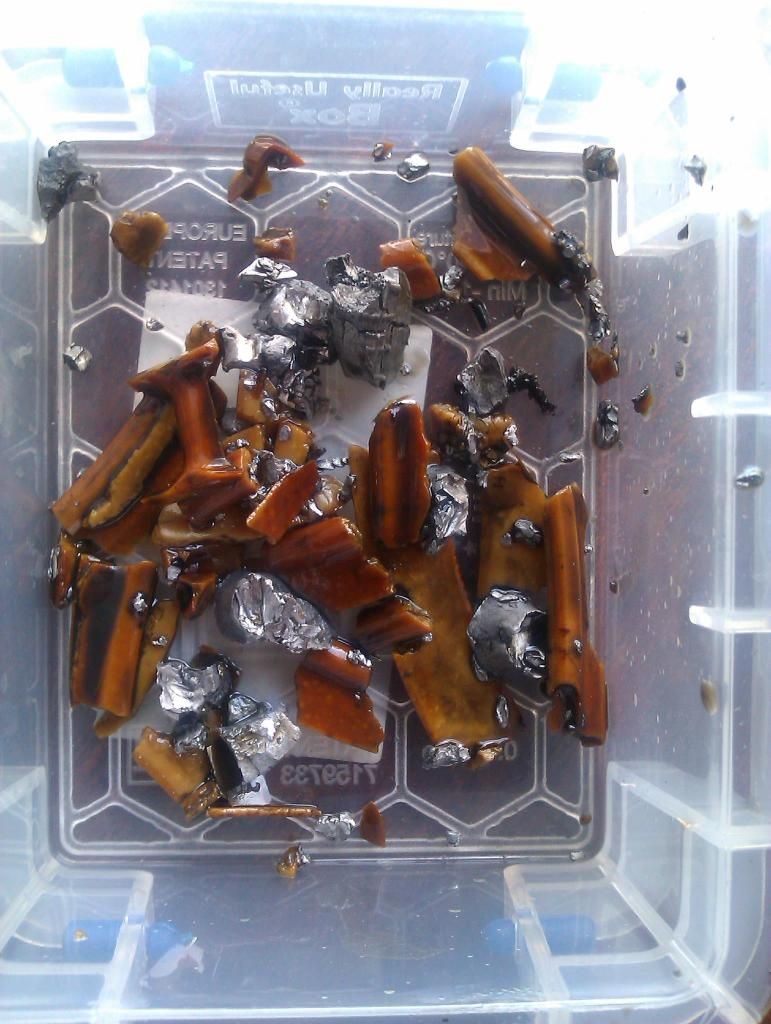 for your rear shock i think them dog bones are defiantly longer then standard, i was having clearance issues but at the bottom of the shock when i put a newer shock on. If i remember ill try and measure the bones on mine but been really busy at the moment.
---
Settled in member
Posts: 119
Joined: Mon Sep 16, 2013 4:12 pm
Bike owned: GK76a GSXR400R & TZR250RS
Location: Fife, Scotland
Thanks for your comments above guys.

Here's the latest update on this project. I've fitted the new OEM bearing into the lower suspension link arm. I removed the old one nae bother wi' the tried & tested method of using a large bench vice & two suitable sized sockets, one to press out & one as the receptacle.
I also used the vice to (carefully) press in the new bearing.
With that done I could refit the rear-end back in/on to the frame. But, before I did though I sized up, ordered & fitted some new O-rings to replace the ones that Si, (the previous owner), had fitted to try to prevent water & filth getting into the bearings. I fitted a 2.5 mm cross section X 16 mm Inside Diameter O-ring on to each side of the rear shocks bottom mounting bush which is 17 mm's in diameter. As a result, the O-rings are a snug fit onto the bush & are lightly trapped between the bearing's edge & the inside face of the lower fork of the rear shock, thus doubling up on the weather protection of the bearing. (Well ... that's the theory anyway, time will tell ... !

) I've also fitted a 1.5 mm cross section by 16 mm I.D. O-ring onto each end of the upper & lower "dog bone" bushes (which are also 17 mm's in diameter) & I also fitted an M12 X 1.0 mm thick stainless washer between each O-ring & the inside faces of the "dog bones" to act as spacers to help open up the clearance between the shock's spring & the dog bones. The frame mounting end of the lower suspension link arm had a 2.5 mm X 19 mm I.D. O-ring fitted over each end of its pivot bush & were lightly trapped between the bearing & the mounting lugs on the bottom of the frame. The O-rings that Si had fitted were a sloppy/loose fit over the ends of the bushes so all I've done is (hopefully) improve on his good idea.
(Worn out sacrificial O-rings will be easier/cheaper to replace than bearings

).
I surprised myself by remembering to dig out the endless drive chain before refitting the rear-end to the frame!

Next I turned my attention to refurbishing both wheels. They both had crazed & chipped paint & also bare areas where, I assume, brake fluid had been spilled & had lifted off the paint!

If you have a large enough pooter monitor you should see what I'm talkin' about below ...
Here they are stripped ...
... & repainted. I used two cans each of "Rust-o-leum" Matt White Primer & Gloss Cherry Red aerosols. Time'll tell how durable the paint is.
I've also managed to tidy up the scruffy top yolk. I sanded it back with wet 320 grit emery cloth, (as NITROMORS was useless!

) & primed & painted it satin black with "Plasticote" rattle cans. Much tidier.
I also dismantled the instrument cluster, (it's an overcomplicated, fiddly bugger innit ?!

), so I could rub down, prime & paint the scruffy & rusty in places main mounting frame, again with Plasticote metal primer & satin black.
It looks top notch now. (Ignore the gimp in the reflections

)
I managed to get the tyres refitted to the wheels yesterday so I'll have a rolling chassis soon.

But first I need to get these tidied up.

A contact in Japan kindly sourced these for me from the Yahoo Japan auction site. They're OEM GK76a discs which measure 4.38 & 4.36 mm thick so are not quite 1/3rd worn yet so should last a few years.

(They're 4.5 mm thick when new). The (un-drilled/slotted) pair fitted to the bike both have excessive lateral free play AND fore & aft free-play & are an "advisory" on the bikes current MOT test cert. so have to be replaced for its next MOT test in July. The replacements cost me 150 quid all in. The equivalent of 76 quid for the discs, plus the shipping costs & I also added on a "commision" as a thank you to Mark for taking the time to help me source them etc. I'd priced up new EBC front discs but they were gonna cost 160 odd quid ..... each!

So the discs from Japan were a bargain in comparison.

Well, that's me up to date again, folks.

Bye for now.
Wullie.
---
Site Supporter

Posts: 287
Joined: Sat Apr 03, 2010 8:03 pm
Bike owned: 91 GSXR 400
Location: Dundee
A
Last edited by
4hundread
on Sat Feb 18, 2017 11:41 pm, edited 1 time in total.
---
Settled in member
Posts: 119
Joined: Mon Sep 16, 2013 4:12 pm
Bike owned: GK76a GSXR400R & TZR250RS
Location: Fife, Scotland
4hundread wrote:Hi wullie, glad to see you have tidied up up that top yoke, that annoyed me for 3 years! Really missing that bike, been through 3 other bikes since selling it. I am looking for another one again!

All the best, si
Lol.

Hi Si, thanks for looking in, hope you like what I've done to the old girl so far.

There's still a fair few things to do but progress has slowed quite a bit lately with work getting busier, but I'll get there ..... eventually.

I've also been stock-piling a few new OEM & some "used" parts lately too so keep checking out how things are going.

Once it's all finished I could pop up one night & let you see how she looks "in the flesh".

Or would that be too tortuous for you!!

What bike's did you have after the ZX-6R?
---
Site Supporter

Posts: 287
Joined: Sat Apr 03, 2010 8:03 pm
Bike owned: 91 GSXR 400
Location: Dundee
Got shot of the zx 6r, then bought an old FZR 600 and threw a pile of new bits at it, dog bones, rear shock, new exhaust,ect from Projection (kayla850), decided i didn't like that either, now have a 2000 GSXR 750, not overly fussed on it either so it will be going soon too
This is the 750. Would be well pleased to see the wee 400 when you are done, should have another soon but not much for sale round our way just now.
Edit, if you aren't going to use the projection dog bones from the 400, I would by them off you for my next one!
---
Settled in member
Posts: 119
Joined: Mon Sep 16, 2013 4:12 pm
Bike owned: GK76a GSXR400R & TZR250RS
Location: Fife, Scotland
4hundread wrote:If you aren't going to use the projection dog bones from the 400, I would by them off you for my next one!
You can have 'em for nowt Si seeing as you gave me a such a good deal on your old GK76.

The ProJections dog-bones are way too short for the K6/K7 shock mod. now anyway so I don't see me needing them.
Once I've got the ol' girl finished I'll nip up on her with them one night. That's if I don't loose 'em first !!

By the way, if I had the money we could have done a swap as I really like the look of that sub-type of GSX-R 750.

P.S. If your interested, I'll be posting a quick update sometime over the weekend.

---
Settled in member
Posts: 5
Joined: Mon Jan 14, 2013 4:49 pm
Bike owned: gsxr400 gk76 lucky strike
Location: los barrios,spain
top work wull..

---
Settled in member
Posts: 119
Joined: Mon Sep 16, 2013 4:12 pm
Bike owned: GK76a GSXR400R & TZR250RS
Location: Fife, Scotland
Thanks Guiri & welcome aboard.

Well, Another month has been & gone since my last update!!

Not much has happened since last months update due to work going from one extreme to the other !! Anyway, here goes.
Got the replacement front discs tidied up & fitted to the front wheel. I've re-used the OEM bolts for now but I'll replace them at a later date wi' a set o' stainless ones from ProBolt. I resprayed the disc centre's & rear brake torque arm with PlastiCote aluminium.
At the beginning of March I took a few scabby chassis parts in to the local powder coaters, (Fife Powdercoatings in Glenrothes), to have them coated in satin black. As luck would have it they were doing some alloy wheels in the same colour that week, so after taking them in on the Tuesday morning they were ready to collect the following Saturday morning. Braw!!

(The bill was £35.00).
A couple of mates have both done a wee bit o' work for me. (Many thanks, guys

). Pete glass media blasted the foot peg plates & Mike knocked up a stainless gear change link rod & a new clutch push-rod. I'll get round to polishing the foot peg plates ..... eventually.

Today I managed to respray the front mounting for the twin head-lamp assembly. Again, PlastiCote paints were used, grey metal primer & Satin Black.
Lastly, I also managed to fit a new set of EBC clutch springs & a new set of OEM clutch bolts as it's strongly recommended by the GK76 guru's on this here forum
not
to re-use the old clutch bolts as the heads have a habit of shearing off when torqued up for a second time!!

(The book figures are 7.0-11.0 N.m. / 5.0-8.0 lb. ft.) They were only £1.57 each so why take a chance re-using the old 'uns!

If work's quiet enough next week I'm hoping to get stuck in to servicing the front brake system.
So till next time folks .....

---
---