Forum rules
Please can you post items for sale or wanted in the correct For Sale section. Items / bikes for sale here will be removed without warning. Reasons for this are in the FAQ. Thanks
Settled in member
Posts: 5
Joined: Sun Dec 27, 2015 9:06 pm
Bike owned: rgv250, gsxr400 fzr400 fzr600
Hi how rare hard to find are the Aluminum Tank Covers i believe they were available on the fzr400r model with the single seat unit.

i have been looking and cant see one on fleebay, any idea how much one would be?

thank you
---
Site Supporter

Posts: 1223
Joined: Sun Aug 14, 2011 8:33 am
Bike owned: Far, far too many now
Location: North Tyneside Tyne and Wear
The SP 2TK was the only model with an ally cover.
I have seen less than 6 available on Ebay in about 5 years and I keep my eye out for them.
There is a even rarer part needed to go with them though.
I have never seen for sale the filler cap fitting ring.
Be aware; the tank cover is not a straight bolt on conversion if that was what you were contemplating.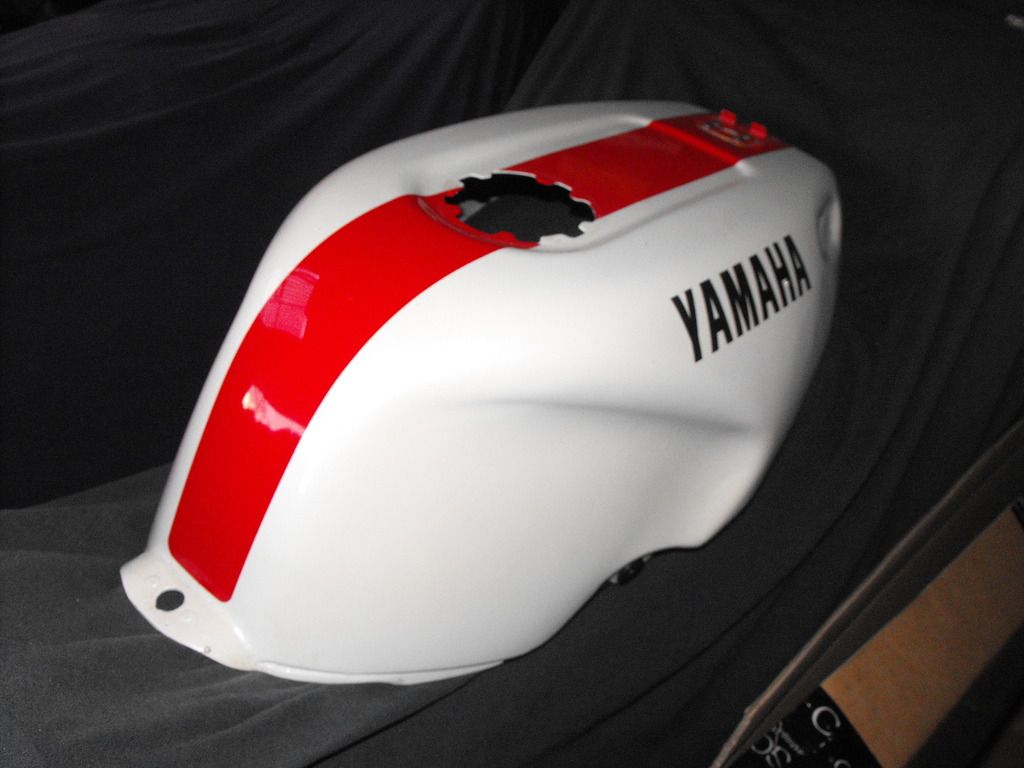 Good ones would make circa £80 I reckon.
A red box doth not a Snap On make.
---
Settled in member
Posts: 5
Joined: Sun Dec 27, 2015 9:06 pm
Bike owned: rgv250, gsxr400 fzr400 fzr600
thanks for that, what about the single seat is that the same- hard to find?

cheers
---
Site Supporter

Posts: 1223
Joined: Sun Aug 14, 2011 8:33 am
Bike owned: Far, far too many now
Location: North Tyneside Tyne and Wear
The seat unit (plastic one piece sidepanels and tail light surround) is less rare. circa £40
but finding a one that does not require major repairs is the harder part.

Then a seat itself is required...beware ; they look very similar to the SP 3TJ unit but have differences...then the rear "bum pad" tooltray underseat access.

The hardest part to source for the tail section will be a straight alloy subframe....proper rare...circa £125.
This then requires a steel sub/subframe that other parts affix to.

I have an inclination you are attempting to convert a 1WG Genesis frame to emulate a 2TK.

I have had discussions on this previously and it is not a simple bolt on process if you want a proper job and not just a bodge up.
A red box doth not a Snap On make.
---
Site Supporter

Posts: 9444
Joined: Tue Apr 29, 2008 8:59 pm
Bike owned: Bimota SB6 Yamaha FZR 3TJ x2
Location: Lundin Taan
The 2TK might look similar to the Genesis but they're more of a ground up redesign than an evolution
---
---