Forum rules
Please can you post items for sale or wanted in the correct For Sale section. Items / bikes for sale here will be removed without warning. Reasons for this are in the FAQ. Thanks
Site Supporter

Posts: 524
Joined: Sun May 11, 2008 8:55 am
Here it is complete and assembled into a slightly scabby swingarm to check the fit -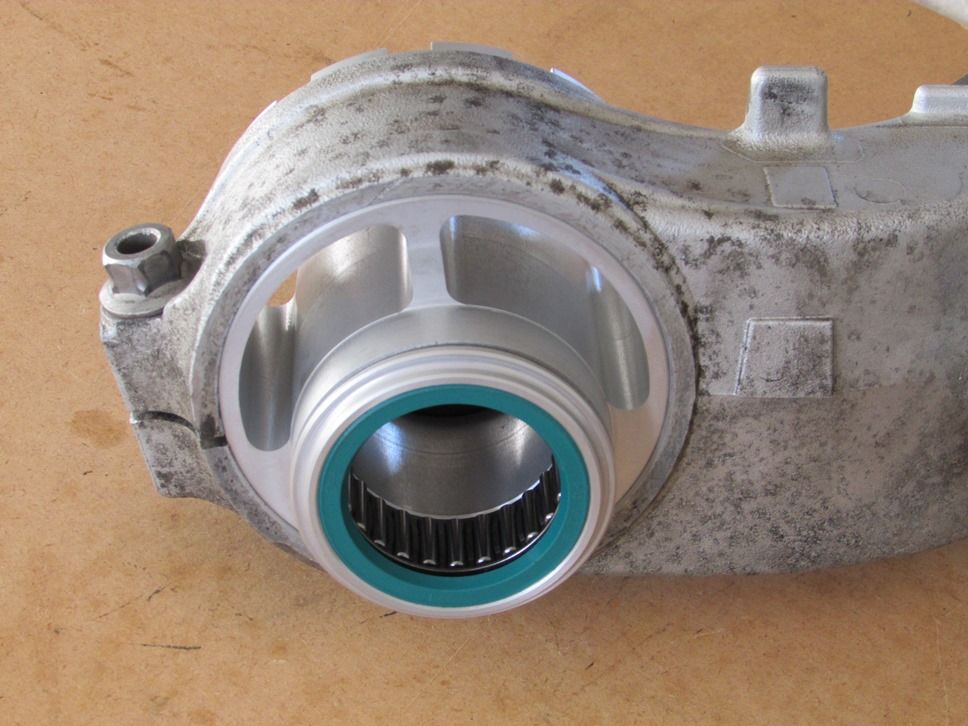 Apparently all the commercially available 50x62x5 seals come in that fetching shade of turquoise - not critical since they are both competely out of sight but if anyone is offended by them I can fit the black OEM ones for an additional fiver on the price.
The only dimension which differs from stock is the width of the adjusting flange - a quick clearance check with the original spacer in place behind the sprocket carrier shows a comfortable 1mm+ between that flange and the heads of the sprocket bolts
Which brings me to the bottom line...
Price for the complete assembly as shown will be £300 if we can get firm orders for five (that is to say orders accompanied by a substantial deposit) and make them as a batch - alternatively I can supply one-offs but the cost then will be £340.
As usual with these projects, thanks go to Richard and Dave at R&D Precision, whose ability to to transform my ideas and sketches into beautiful metal is truly impressive...
Rick
---
Settled in member
Posts: 27
Joined: Sat Jan 26, 2019 1:09 pm
Bike owned: 1994 RVF400R
Location: Desert Southwest USA
Just sent you an email.....
---
Site Supporter

Posts: 1168
Joined: Mon Jan 04, 2010 7:24 pm
Bike owned: 1 x NC30, 2 x NC32.5, 1 x NC35
Location: SE Greater London
---
One Hit Wonder
Posts: 1
Joined: Tue May 07, 2019 3:32 pm
---
Site Supporter

Posts: 470
Joined: Thu May 17, 2012 5:43 am
Bike owned: NC30 NC35 RC30 RC45 MC22 NXA
Location: Southern California
Nice looking hub
. How much does it weigh?
V4ia addict
---
---